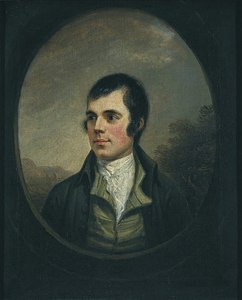 Scottish people's poet Robert Burns was born Jan. 25, 1759. He is widely regarded as Scotland's national poet and is a cultural icon worldwide. Along with memorable love poems – he was quite a ladies' man – Burns celebrated the lowly and downtrodden. A pioneer of the Romantic movement, he was a also a social and political critic. His poems have provided inspiration for socialists in his home country, in the English-speaking world and in revolutionary Russia and the USSR.
Burns was born into a poor family of tenant farmers in South Ayrshire, Scotland. From an early age he endured the hardship of grueling manual labor as a tenant farmer himself. It gave him a premature stoop and health problems that undoubtedly lead to his early death, at age 36, in 1796.
Burns wrote both in English and, famously, in the Scots language and Scottish English dialect.

His themes included republicanism (he lived during the French Revolutionary period) and Radicalism, which he expressed covertly in "Scots Wha Hae," Scottish patriotism, anticlericalism, class inequalities, gender roles, Scottish cultural identity, poverty, sexuality, and the beneficial aspects of popular socialising such as carousing, Scotch whiskey, folk songs.
A great admirer of the egalitarian spirit of the American and French Revolutions, Burns expressed his own egalitarianism in poems like "Birthday Ode for George Washington" and "Is There for Honest Poverty" (commonly known as "A Man's a Man for a' that").
John Steinbeck took the title of his 1937 novel Of Mice and Men from a line in Burns' "To a Mouse": "The best laid schemes o' mice an' men / Gang aft agley." Bob Dylan, when asked for the source of his greatest creative inspiration, named Burns' 1794 song "A Red, Red Rose." J. D. Salinger got the title of his 1951 novel The Catcher in the Rye from Burns's poem "Comin' Through the Rye."
The towns of Burns, New York, and Burns, Oregon, are named after Robert Burns.
And a crater on Mercury is named after him.
Photo: Wikipedia