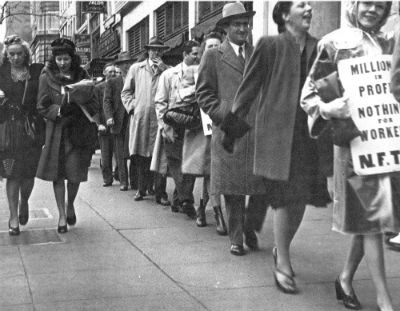 The National Federation of Telephone Workers-later to become the Communications Workers of America-was founded today in New Orleans in 1938. As early as 1910, telephone workers made gains organizing the budding industry, however women were mostly excluded as the unions did not accept telephone operators – a job filled by women, according to the CWA timeline. But in 1938, amidst the upsurge of mass production and industrial workers, representatives of 145,000 telephone workers founded the national union. In 1947, CWA was founded after a strike forced by AT&T ended with the company successfully undercutting the National Federation and breaking the strike. Today, "CWA represents 700,000 workers in private and public sector employment in the United States, Canada and Puerto Rico in 1,200 chartered CWA local unions," says the union's website. "In 10,000 communities across the United States, CWA members work in telecommunications and information technology, the airline industry, news media, broadcast and cable television, education, health care and public service, law enforcement, manufacturing and other fields."
CWA established the community-labor, coalition-oriented Jobs with Justice in 1987 with the view that like-minded organizations should unite to further the cause of economic and social justice. Current CWA president, Larry Cohen, was the founder of Jobs with Justice, and continues to advocate for labor-community-religious and other "like minded" groups to build a mass movement for jobs, livable wages and democratic rights for all. The Newspaper Guild merged with CWA in 1997. People's World staff members and many volunteer writers are members of the Guild.
Photo: National Federation of Telephone Workers walk a picket line in 1947 (CWA).