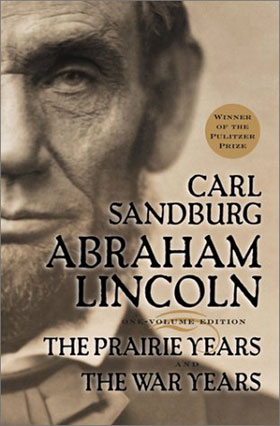 On January 6, 1878: Pulitzer Prize-winning poet and author Carl Sandburg was born in Galesburg, Illinois.
His working class upbringing was reflected in much of his work, as in his 1916 poem, "Chicago" that begins:
"Hog Butcher for the World, Tool Maker, Stacker of Wheat, Player with Railroads and the Nation's Freight Handler; Stormy, husky, brawling, City of the Big Shoulders."
And in the poem "Working Girls." "Each day they go to work," he wrote, "long lines of them afoot amid the downtown stores and factories, thousands with little brick-shaped lunches wrapped in newspapers under their arms."
In the poem he notes the gray as well as the green:
"Faces go by written over: 'I know it all, I know where the bloom and the laughter go and I have memories,' and the feet of these move slower and they have wisdom where the others have beauty."
At the age of thirteen Sandburg left school and began driving a milk wagon. Later he worked as a hotel porter, a bricklayer and a farm laborer. He began his writing career as a journalist for the Chicago Daily News. Later he wrote poetry, history, biographies, novels, children's literature, and film reviews. Sandburg also collected and edited books of ballads and folklore.
While living in Milwaukee, Sandburg served as a secretary to Emil Seidel, socialist mayor of Milwaukee from 1910 to 1912. Sandburg met Lilian Steichen (brother of the photographer Edward Steichen) at the Social Democratic Party office. They married and raised three daughters.
In 1919 Sandburg won a Pulitzer Prize for his collection Corn Huskers. He won the 1940 Pulitzer Prize for History for The War Years, the second volume of his Abraham Lincoln, and a second Poetry Pulitzer in 1951 for Complete Poems.
On February 12, 1959, in commemorations of the 150th anniversary of Abraham Lincoln's birth, Congress met in joint session to hear a dramatic reading of the Gettysburg Address, followed by an address by Sandburg-the only American poet ever invited to address a joint session of Congress.
Sandburg supported the civil rights movement, and was honored by the NAACP with their Silver Plaque Award, proclaiming him to be a "major prophet of civil rights in our time."
Sandburg died on July 22, 1967.
"Trying to write briefly about Carl Sandburg," said a friend of the poet, "is like trying to picture the Grand Canyon in one black and white snapshot."