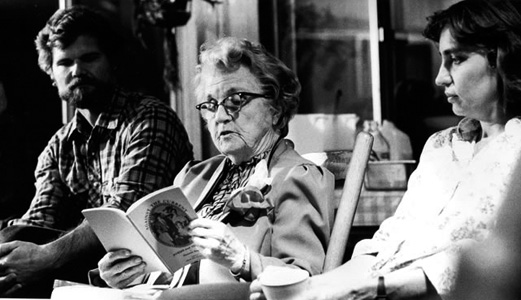 Florence Reece, born April 12, 1900, died August 3, 1986. She was an American social activist, poet, and folksong writer, born in Sharps Chapel, Tennessee, the daughter and wife of coal miners.
Reece will be forever known for the song, "Which Side Are You On?" written in 1931 during the "Harlan County War" strike by the United Mine Workers of America and the National Miners Union in which her husband, Sam Reece, was an organizer.
"Which Side Are You On?" became an anthem for the labor movement. Borrowing from the melody of an old hymn,' Mrs. Reece wrote the union song in 1931 while bullets literally flew through the walls of her home. Sheriff J.H. Blair was searching for her husband and led his gang of thugs on a violent rampage, beating and murdering union leaders.
Folk singer Pete Seeger recorded the song in 1941 and it has literally been used worldwide by labor and social justice groups.
Video of Florence Reece singing "Which Side Are You On"
Learn more about it:
The superb children's book: Which Side Are You On?: The Story of a Song, for grades 2 to 6 — but everyone will appreciate this!
By George Ella Lyon it tells the hair-raising story through the eyes of one of Florence's daughters, a dry-witted, pig-tailed gal whose vantage point is from under the bed with her six brothers and sisters while the thugs' bullets hit the thin doors and windows of the company house. Terrific illustrations by graphic novelist Christopher Cardinale brings Florence's triumphant story to life in true rip-roaring union style.
One reviewer pointed out that the book can open a gateway to understanding terms such as collective bargaining, what that right has meant, and to consider what it means today.
The Battle of Blair Mountain: The Story of America's Largest Labor Uprising, by journalist and historian Robert Shogan. A Kirkus starred review declared "A mesmerizing, rarely mentioned piece of labor history, crackingly told."
Matewan, the 1987 film available on DVD, directed by John Sayles, starring Chris Cooper and James Earl Jones, a fictional story about West Virginia coal miners during the 1920s. The tension begins when the Stone Mountain Coal Company of Matewan, West Virginia, announces a lower pay rate for miners, who respond by calling a strike under the leadership of a UMW representative (Chris Cooper). The union miners are joined by unorganized Black and Italian miners who initially resist the strike, and a fateful battle ensues when detectives hired by the coal company attempt to evict miners from company housing. Shot by master cinematographer Haskell Wexler, too bad the DVD versions do not do it justice.
Photo: Florence Reece at her 85th birthday celebration. Highlander Research and Education Center, Knoxville, Tenn.