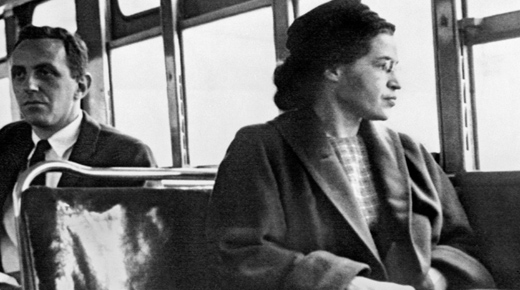 On December 1, 1955, Rosa Parks, 42 years old, was arrested in Montgomery, Ala., for refusing to give up her seat on a public bus. The "white" section of the segregated bus was filled, and a white passenger was legally entitled to sit down and make a Black rider stand.
Rosa Parks was not the first to resist segregation on buses, but hers was the case that eventually came to symbolize this phase of the civil rights struggle. The ensuing Montgomery Bus Boycott, led by president of the local NAACP, Edgar Nixon; and by the Rev. Martin Luther King, Jr., lasted more than a year, and was a unifying force for the city's Black community. News of it spread globally, and galvanized the conscience of America. Eventually the U.S. Supreme Court declared the segregation law unconstitutional.
Often portrayed as a humble, ordinary working woman who was simply "tired of giving in," Parks was already politically advanced. She served as secretary of the Montgomery chapter of the NAACP, and had prepared for her dramatic but nonviolent action defending workers' rights and racial equality at the Highlander Folk School, a training center in Tennessee.
In later years, from 1965 to 1988, living in Detroit, Parks worked for long-serving John Conyers, an African-American U.S. Representative.
Upon her death in 2005, she was the first woman and second non-U.S. government official to lie in honor at the Capitol Rotunda. She is permanently honored by a statue in the United States Capitol's National Statuary Hall, and is featured on a U.S. postage stamp.