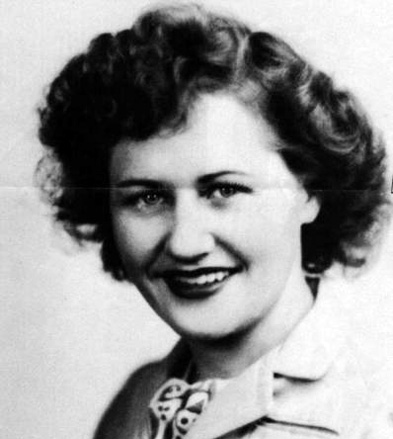 Rose Will Monroe, who became famous as "Rosie the Riveter," died in Clarksville, Ind., on May 31, 1997 at the age of 77.
During World War II, like many women of that era, Monroe went to work in the aircraft industry. She was a riveter making parts for B-29 and B-24 military airplanes at the Willow Run Aircraft Factory in Ypsilanti, Mich., when actor Walter Pidgeon came to the plant to make a film promoting war bonds. Pidgeon discovered her there and asked her to star in the film.
A song "Rosie the Riveter" by Kay Kyser, inspired by a Long Island woman named Rosalind P. Walter, was already a hit. And the now-famous poster with the title "We Can Do It" above a painting of a muscle-flexing woman in a bandanna and overalls was becoming a worldwide symbol of women in the defense industry in World War II. So the film's producers jumped at the chance to have a real-life "Rosie the Riveter" in their movie.
The film was shown in movie theaters between features to encourage viewers to buy war bonds to help finance the war effort.
Originally from Somerset, Ky., Monroe took the job at Willow Run in the early 1940s after her husband was killed in a car accident and she was left a single mother of two small children.
During the war, the Willow Run plant had 42,000 workers, one-third of them women.
Monroe kept working after the war. She drove a taxi, ran a beauty shop and started a construction company in Indiana called Rose Builders, specializing in luxury custom houses.
During the war, she had hoped to be among the women chosen to learn to fly and transport aircraft parts around the nation, but she was passed over because she was a single mother. She later achieved her dream of becoming a pilot when she was in her 50s.
Photo: Rose Will Monroe, a real "Rosie the Riveter," in the 1940s. Ypsilanti Gleaner