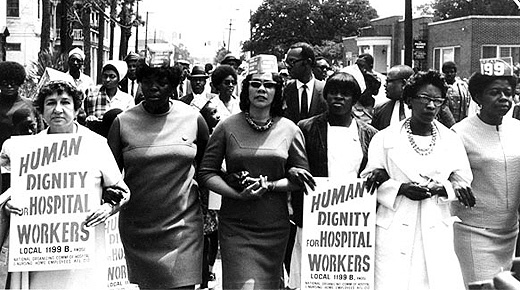 On July 18, 1969, African-American hospital workers, mostly women, won union recognition after a 113-day strike in Charleston, S.C.
For over three months, four hundred African-American hospital workers from the Medical College of South Carolina (MUSC) and Charleston County Hospital walked off their jobs in protest over discrimination and the right to form a union. The state government and hospital boards argued that workers receiving pay from public funds could not engage in collective bargaining. The hospital strikers were mostly women, some of whom earned below the federal minimum wage; white hospital workers performing the same jobs were paid higher.
Mary Moultrie, one of the leaders of the strike, described their demand as one for "respect as human beings." After graduating from Burke High School in 1960, Moultrie went to Goldwater Memorial Hospital in New York to become a Licensed Practical Nurse (LPN). In 1967, she returned to Charleston and was hired at MUSC only as a nurse's assistant since her LPN was not accepted. Ms. Moultrie said there were various types of nursing titles that promoted the unequal pay between black and white nurses. She also told of harassing treatment toward black nurses.
The nurses were joined by William Saunders and SEIU1199 with support from the Southern Christian Leadership Conference (SCLC), local leading civil rights activist Septima Poinsette Clark, and various leaders such as Coretta Scott King, Andrew Young, Jesse Jackson and Ralph Abernathy. Saunders remembers the racial tension in the city during the strike, detailing threats made by local officials and the false arrests of activists
More information on the Hospital Workers' Strike, Charleston, S.C., 1969 is available at The American Folk Life Center, The Library of Congress.
Photo: The Avery Research Center at the College of Charleston. The Avery Research Center was established to collect, preserve, and make public the unique historical and cultural heritage of African Americans in Charleston and the South Carolina Lowcountry.