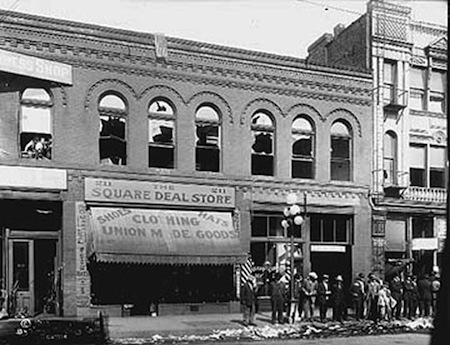 On July 17, 1913, in Seattle, the annual Golden Potlatch festival was underway when a brawl broke out between members of the crowd listening to an Industrial Workers of the World speaker and five servicemen who disrupted the speech. The Seattle Times with its publisher, Colonel Alden Blethen, whipped up anti-IWW and anti-socialist hysteria in an article that combined the brawl with a speech given at the same time by Secretary of the Navy Josephus Daniels.
Afterward, a large mob formed and plotted to attack the union and left-wing radicals; they went on a rampage through the city destroying anything to do with the IWW or Socialist Party cause. The headquarters of the IWW at 5th Avenue and Virginia Street was ransacked. The windows busted out and all property dragged out into the street and burned. Two Socialist Party of America offices and a Socialist newsstand were destroyed. The mob eventually entered a mission and began to destroy it, until someone realized it was not IWW affiliated and called off the attack.
By July 18, the city was under martial law and the federal government demanded a full-scale investigation of the military personnel involved in the mob. The socialist community demanded federal money to replace damaged property. Much of the coverage in the local newspapers blamed the IWW for the attack and accused it for being a destabilizing force in the city.
Photo: IWW hall trashed by a mob of soldiers, sailors, and civilians during the Potlatch Riots. (Museum of History and Industry via Radical Seattle Remembers)