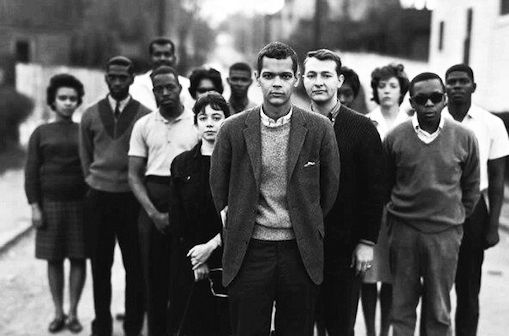 Today people from around the country and globe are wishing the long time civil rights giant, Julian Bond, a very happy birthday.
Bond was born Jan. 14, 1940, in Nashville, Tenn. Bond was a founding member of the Student Nonviolent Coordinating Committee and served as its communications director from 1961 to 1966, where he traveled around Georgia, Alabama, Mississippi and Arkansas to help organize civil rights and voter registration drives. From 1960 to 1963, he led student protests against segregation in public facilities and the Jim Crow laws of Georgia.
In 1965, after passage of the Civil Rights Act and Voting Rights Act, Bond was one of eleven African Americans elected to the Georgia House of Representatives. But on January 10, 1966, Georgia state representatives voted 184-12 not to seat him because he had publicly endorsed SNCC's policy regarding opposition to U.S. involvement in the Vietnam War. A three judge panel on the United States District Court for the Northern District of Georgia ruled in 2-1 decision that the Georgia House had not violated any of Bond's constitutional rights. In 1966, the United States Supreme Court ruled 9-0 in the case of Bond v. Floyd that the Georgia House of Representatives had denied Bond his freedom of speech and was required to seat him. From 1967 to 1975, Bond was elected to four terms as a Democratic member in the Georgia House and from 1975 to 1987, six terms to the Georgia Senate. There he organized the Georgia Legislative Black Caucus.
With Morris Dees, Bond helped found the Southern Poverty Law Center (SPLC), a public-interest law firm based in Montgomery, Alabama. He served as its president from 1971 to 1979. Bond continues to serve on the board of directors of the SPLC.
From 1998 to 2010, he was chairman of the NAACP and at the forefront in the struggles against the Bush agenda and championing the rights of gay and lesbian people, linking the two struggles – civil rights and LGBT rights. Bond is also a champion for working people and labor, continuing to speak out for unity, equality, peace and justice. AFL-CIO President Richard Trumka, speaking at the NAACP convention in 2009, said of Bond:
"And then there's a man who has been a personal hero of mine ever since 1968 when I first heard him speak out against the war in Viet Nam. He has been, and remains, one of this generation's strongest voices for peace and justice – I'm talking about your chairman – the Honorable Julian Bond!"
Bond has been an outspoken critic of the Keystone XL Pipeline and was arrested with others during a protest two years ago outside the White House. Bond is a professor at American University and also is a faculty member at the University of Virginia.
Teresa Albano contributed to this story.
Photo: Julian Bond, center, stands with other student activists in this photo posted in 2012 on Facebook, reminding people to vote.
Originally posted January 14, 2014.