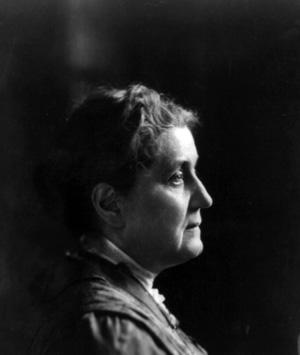 On September 6, 1860, Jane Addams was born Cedarville, Ill. Addams was a co-founder of Chicago's Hull House, a social Christian, and a leader in the women's suffrage and peace movements. She was the first American woman to receive the Nobel Peace Prize.
In 1889, Addams co-founded Hull House with Ellen Gates Starr. Other women social reformers were drawn to its activities. Hull House was a settlement house located in a poor working-class neighborhood in Chicago. It was established to help newly arrived immigrants become a part of society. The women at Hull House actively campaigned to persuade Congress to pass legislation to protect children.
Hull House eventually expanded to include a summer camp called Brown Country Club. Hoping to encourage cooperation among different peoples and alleviate poverty in low-income areas. Hull House offered a comprehensive civic, cultural, recreational, and educational activities and attracted admiring visitors from all over the world.
Addams was a member of the social Christian movement. Social Christians believed that Christians should be more engaged with the world. Her religious faith and philosophy played a central role in why she founded Hull House.
Addams called on women to exercise their civic duty to become involved in municipal affairs as a matter of "civic housekeeping," public safety and social reform. She had long discussions with philosopher John Dewey in which they defined democracy with an emphasis on duty and less on rights.
Addams was a pacifist and in 1899 became active in the anti-imperialist movement that followed the Spanish-American War. Russian novelist Leo Tolstoy influenced her pacifist views, along with the pragmatist philosophers John Dewey and George Herbert Mead. She saw democracy, social justice and peace as mutually reinforcing.
In 1915, Addams was elected to national chairman of the Women's Peace Party. At the time of the U.S entry into World War I in 1917, Addams gave a speech at Carnegie Hall that the New York Times labeled unpatriotic. Later in 1919 she served as president at the first meeting of the Women's International League for Peace and Freedom. As a result of her long dedication to the struggle of pace, she became the first American women to be awarded the Nobel Peace price in 1931.
Jane Addams died on May 21, 1935 at the age of 74. She left a lasting legacy of social and political activism. Google honored her this year with their Google Doodle.
Wikipedia contributed to this article.
Photo: Jane Addams. Wikimedia