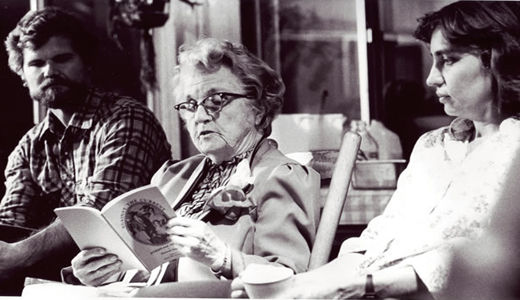 On this day in 1900, Florence Patton Reece was born in Sharps Chapel, Tennessee. She was a social activist and writer of poetry and folk songs. As the daughter and wife of coal miners, she spent her life speaking out on labor union and sociopolitical struggles.
She is best known for having written the folk song "Which Side Are You On?," which she wrote at the age of twelve while her father was out on strike with other coal miners, according to American Folk Song Book by Alan Lomax.
In 1931, during the Harlan County War strike by the United Mine Workers of America and the National Miners Union (in which her husband was an organizer), Reece updated her song to the version known today. "Which Side Are You On?" has since been covered by various artists, including folk singer Pete Seeger, the Almanac Singers, celtic punk band Dropkick Murphys, and black metal/bluegrass artist Panopticon.
Lomax wrote in his book, "Florence Reece, a shy, towheaded Kentucky miner's daughter, composed this song at the age of twelve when her father was out on strike. She sang it to me standing in front of the primitive hearth of a log cabin in the backwoods of Kentucky in 1937, and it has since become a national union song."
Reece continued to sing her anthem to rally striking miners, and lived an active life until she died of a heart attack at the age of 86 in Knoxville, Tennessee.
Photo: Florence Reece (center) during her 85th birthday celebration in Monteagle, Tenn., 1985. Metascholar.org/Highlander Research and Education Center