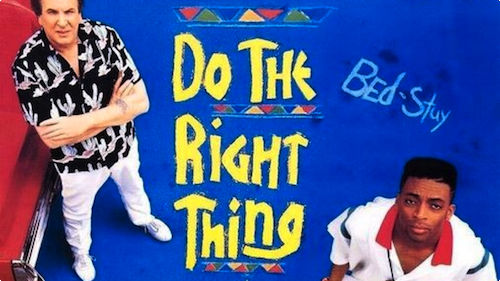 Twenty-five years ago today Spike Lee's union-made blockbuster movie on race and racism, "Do the Right Thing" was released in theaters nationwide. The film was set in Brooklyn, N.Y., during a time of sharp racial tensions fueled by then-Mayor Ed Koch, the New York Police Department and several racist attacks during the 1980s.
Lee dedicated his 1989 film to Eleanor Bumpers, a 66-year-old African American woman, who was shot to death in 1984 by New York police officers while they were evicting Bumpers from her Bronx apartment. In a New York magazine interview, Lee said, "Eleanor Bumpurs-[the police] had already shot her finger off. Then they killed her with a shotgun. Sixty-six years old. Mayor Koch, he was the one responsible, I feel, because he was giving the signals, the wink-wink, like it's open season."
Other high profile racist crimes included the 1986 death of 23-year-old Michael Griffith who was struck and killed by a car in Howard Beach, Queens, after he was beaten and chased onto a highway by a mob of white youth; and the infamous vigilante Bernhard Goetz, who in 1984, shot and seriously wounded four young Black youth in the NYC subway because they allegedly were going to mug him.
The film has been hailed as a "masterpiece," not only for its social content, but for its innovative film techniques. Lee's break-through film also helped to boost careers of notable actors including Samuel L. Jackson, Rosie Perez and Danny Aiello, who was nominated for an Academy Award for Best Supporting Actor. However, the film was snubbed for the Best Picture category, eliciting an on air protest by actress Kim Basinger who said, "The best film of the year is not even nominated, and it's Do the Right Thing." The film also included civil rights icon and actress Ruby Dee, who died June 12, and her husband, the late actor and activist Ossie Davis.
Lee said Do the Right Thing was his "first union film" and it led to advancing racial diversity in New York's film industry and crews. When asked about "one of the movie's biggest legacies," Lee said, "I looked at the rosters, and for the most part, it was white males. Especially the Teamsters. So we had some conversations."
President Obama and First Lady Michelle Obama congratulated Lee on the occasion of the film's 25th anniversary at a June 27 celebration at the Los Angeles County Museum of Art, and recalled that they saw the film during their first "official date."
In a video recording (see below) the president said, "So Spike, thank you for helping me impress Michelle, and thank you for telling a powerful story. Today, I've got a few more grey hairs than I did back in 1989. You don't look like Mookie anymore. But Do the Right Thing still holds up a mirror to our society, and it makes us laugh, and think and challenges all of us to see ourselves in one another."
Followed by the First Lady who said, "It's really a testament to your vision and to everyone who helped you make this movie possible, including the great Ruby Dee, who we will remember always. So congratulations, Spike! And we hope you all have a great time!"