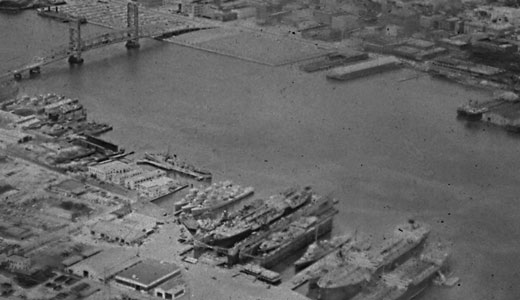 Gathering in Chicago from eleven cities across the country, steam boiler operators met on this day in 1896 to form the National Union of Steam Engineers of America, a union that served as the forerunner to the International Union of Operating Engineers.
This unionization was seen as a great achievement, as working conditions for construction and stationary workers in the late 1800s were considered to be abysmal. Wages were extremely low, and benefits were unheard of.
Steam engineers were vital to the operation of steam-driven construction equipment at that time. Among their achievements is the rebuilding of San Francisco after it was ravaged in the earthquake of 1906. Over the next few years, the union workers were also integral in digging the Panama Canal.
Canadian workers joined the union a year after it was formed, at which point it came to be called the International Union of Steam Engineers.
Photo: The Jacksonville Shipyards, where nine members of the National Union of Steam Engineers worked. iuoe673.org/San Marco Preservation Society