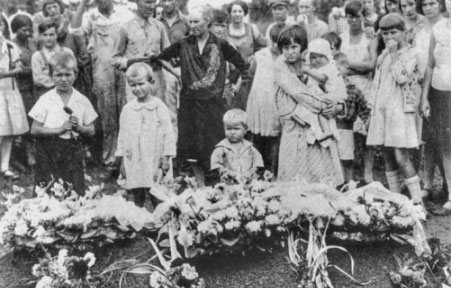 On this day in 1929, during the Loray Mill strike in Gastonia, North Carolina, National Textile Workers Union members were ambushed by a group of armed men.
The group – consisting of local vigilantes and a sheriff's deputy – attacked the workers on their way back home from a meeting. They proceeded to force mill striker and songwriter Ella Mae Wiggins' pickup truck off the road, and shot the 29 year-old mother of nine in the chest, killing her.
Though there were around 50 witnesses during the assault, five of the attackers were arrested – but all acquitted of her murder.
After her death, the AFL-CIO expanded Wiggins' grave marker in 1979, to include the phrase, "She died carrying the torch of social justice."
Photo: Wiggins' children at their mother's grave, on the day of her funeral. Tumblr