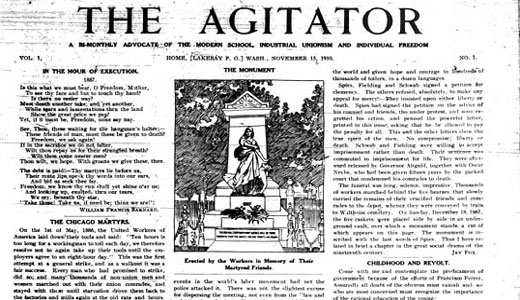 On November 15, 1910, "The Agitator" – a newspaper based in Lakebay, Washington – was first published. It would continue to run on a bimonthly basis until 1912. During its run, the tabloid advocated industrial unionism, free speech, sexual freedom, and support for the Industrial Workers of the World, becoming a provocative rallying point for working class readers.
"The Agitator" was published by the anarchist Home Colony, which was the site of visits of such notable figures as Emma Goldman, according to the Labor Press Project. The paper's editor was Jay Fox, a survivor of the Haymarket Massacre in Chicago.
The paper covered issues including strikes, rallies, presidential elections, and international issues like the Mexican civil war. "The Agitator" also included poetry and prose on occasion.
Before its run ended, Fox had agreed to relocate the paper to the Windy City, where it continued to be published during its final year.
Photo: Labor Press Project