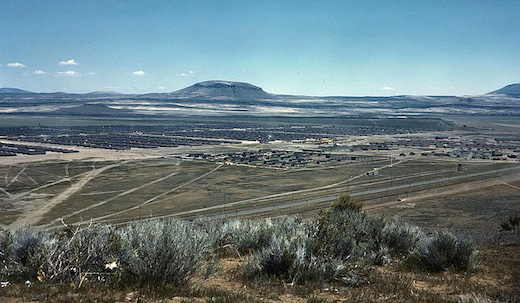 The infamous Tule Lake internment camp, where thousands of Japanese Americans were unjustly imprisoned during World War II, officially opened today in 1942 in northern California. Tule Lake was the largest and most conflict-ridden of the ten War Relocation Authority camps used to carry out the government's system of exclusion and detention of persons of Japanese descent. Mandated by Executive Order 9066, issued on February 19, 1942, some 120,000 people of Japanese descent, two-thirds of whom were U.S. citizens, were incarcerated in American concentration camps after Japan's attack on Pearl Harbor. Tule Lake became the crucible for Japanese American resistance to incarceration during World War II.
With a peak population of 18,700, Tule Lake was the only camp converted into a maximum-security segregation center, ruled under martial law and occupied by the Army. Tule Lake was the last to close on March 28, 1946.
Among the people interned was a young George Takei, the actor who played Sulu on Star Trek. In 2004, Takei joined with others on a 4th of July pilgrimage to Camp Tule Lake (his second as he also visited in 1996), writing: "It was there in a barbed wire camp built on a wind-swept dry lake bed that I spent two and a half years of my boyhood after a year and a half in another internment camp in Arkansas."
Just the name Tule Lake evokes many different emotions. The site, located just outside of Newell, Calif. in Modoc County, was the only camp that had a prison. Those who answered "no-no" to the government's loyalty questionnaire were sent to Tule Lake.
"Of all the wartime incarceration sites, Tule Lake tells the most extreme story of the government's abuse of power against people who dared to speak out against the injustice of their incarceration," said Barbara Takei, whose mother was incarcerated at Tule Lake. Barbara Takei (no relation to George) also co-authored "Tule Lake Revisited: A Brief History and Guide to the Tule Lake Concentration Camp Site."
In 2012, Modoc County officials wanted to build an eight-foot high, three-mile long fence around the Tule Lake internment site, which opponents said would detract visitors and ruin the memory of the camp. Roger Daniels, a professor emeritus of history from the University of Cincinnati, compared Tule Lake to Gettysburg calling the Civil War battle site a "shrine" and Tule Lake a "site of shame."
Bruce Embrey, co-chair of the Manzanar Committee said, "This is precisely why … it's so crucial that we make all of the camps National Parks and really ensure that they are preserved." A part of the camp pilgrimage experience is the ability to see and feel what former internees did during WWII. "You just look at it and you think, 'Oh my God, this thing was massive.' And it's because you don't have any obstructions," Embrey said. "I think that's essential to understanding the character of the camps. If they do this [build the fence], this will be a tragedy." An active change.org petition can be found at http://www.change.org/petitions/stop-the-proposed-fence-at-the-tulelake-municipal-airport-site-of-the-former-tule-lake-segregation-center-california
Teresa Albano compiled this note using Tule Lake Committee's history, Pacific Citizen, George Takei's blog, Oregon History Project and Wikipedia.
Photo: A view of the Tule Lake War Relocation Center, circa 1942 or 1943.