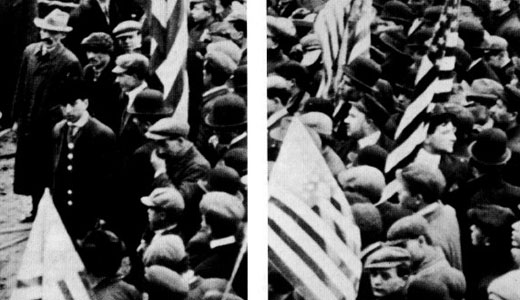 The Western Federation of Miners was founded on this day in 1893 by "Big Bill" Haywood. The new union merged several previous miners' unions that had represented workers from Butte, Montana; Coeur a'Alene, Idaho; Colorado; South Dakota; and Utah. The name of the organization would eventually change to the International Union of Mine, Mill, and Smelter Workers in 1916.
William "Big Bill" Haywood would go on to become a founding member and leader of the Industrial Workers of the World, and was involved in important labor battles such as the Colorado Labor Wars in 1903 and 1904, and the Lawrence Textile Strike in 1912.
Haywood defined the Western Federation's stance against capitalism, from the viewpoint of the workers, when he stated, "The mine owners did not find the gold, they did not mine the gold, they did not mill the gold, but by some weird alchemy, all the gold belonged to them!"
Part of the Federation's history was revisited in the 1954 film Salt of the Earth, directed by Herbert J. Biberman, which portrayed a year-and-a-half-long strike by New Mexico zinc miners who belonged to that union.
Photo: The Lawrence textile strike of 1912. Marxists.org