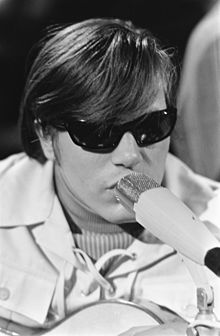 José Montserrate Feliciano García was born 70 years ago on September 10, 1945. Better known simply as José Feliciano, he is a virtuoso guitarist, singer, and composer renowned for many international hits, including his rendition of the Doors' "Light My Fire" and the best-selling Christmas single "Feliz Navidad." His music is a mix of styles, including both flamenco and mellow easy listening influences. In the U.S. he received widespread popularity in the 1960s, particularly after his 1968 album "Feliciano!" came out and was a No. 2 hit. He has released many albums over the years in both English and Spanish.
Feliciano was born in Lares, Puerto Rico, left permanently blind at birth as a result of congenital glaucoma. He was first exposed to music at the age of three; he would play on a tin cracker can while accompanying his uncle, who played the cuatro. When Feliciano was five, his family moved to Spanish Harlem, New York City, and at nine he played the Teatro Puerto Rico in The Bronx.
Feliciano started his musical life playing the accordion until his father gave him his first guitar. He would play his guitar for up to 14 hours a day, and listen to 1950s rock 'n roll, records of classical guitarists and jazz players. Andrés Segovia, Django Reinhardt and Wes Montgomery were among his favorites. Feliciano later had classical lessons with Harold Morris, a student of Segovia. He has also mentioned soul music in general, and Ray Charles in particular, as influences on his singing. At 17 he quit school to play in clubs. He had his first professional, contracted performance in Detroit.
In 1963, after some live performances in pubs and clubs around the U.S. and Canada, he was signed by RCA Victor. In 1964, he released his first single, "Everybody Do the Click." In 1965 and 1966, he released his first folk-pop-soul albums: "The Voice and Guitar of Jose Feliciano" and "A Bag Full of Soul." Reviewers called him the "10-finger wizard." He also performed at the 1964 Newport Jazz Festival.
In 1966, on a concert tour to Mar del Plata, Argentina, he stayed to record an album of bolero music in Spanish, resulting in two smash hits with the singles "Poquita Fe" ("Little Faith") and "Usted" (the formal version of "you" in Spanish).
After a European tour and two more successful albums, Feliciano, now a household name all over Latin America, moved to Los Angeles. There he recorded the Doors' song "Light My Fire" in a Latin style and released it as a single, which in the summer of 1968 reached #3 on the U.S. pop charts with over one million copies sold in the U.S. alone. The song became a #1 hit in many countries, including Canada, Brazil and the UK and was awarded a gold disc. On the strength of this success, Feliciano won two 1969 Grammy Awards for Best New Artist of the Year and Best Pop Song of the Year, bringing him worldwide recognition as a pop star and stylistic leader because of his "crossover" from Latino music to English-language pop rock. He is widely recognized as the first virtuoso classical guitarist to bring nylon-string guitars into the pop rock scene. In 19769 he recorded the Cuban song "Guantanamera."
On October 7, 1968, at the height of protests against the Vietnam War, Feliciano was invited to perform "The Star-Spangled Banner" at Tiger Stadium in Detroit during Game 5 pre-game ceremonies of the 1968 World Series between the Tigers and the St. Louis Cardinals. His personalized, slow, Latin jazz performance proved highly controversial. In an October 2006 NPR broadcast, he expressed pride at opening the door for later interpretations of the national anthem.
In 1970, Feliciano wrote and released an album of Christmas music, "Feliz Navidad." The title song has been covered by many artists, becoming a traditional part of the musical landscape at Christmas time. "Feliz Navidad" is recognized by ASCAP as one of the 25 all-time most-played Christmas songs in the world.
His career continued with numerous trips abroad and Grammy Award-winning album releases. He has also acted and composed for television and movies. In early 1974, he played in Prague, Czechoslovakia, sharing the stage with Czech idol Karel Gott. Feliciano was one of the very few Western pop stars who was able to straddle the cultural barrier between the West and the Eastern Bloc countries.
In 1995, the City of New York renamed Public School 155 as the Jose Feliciano Performing Arts School. In 2011 Feliciano received the Latin Grammy Lifetime Achievement award from the Latin Academy of Recording Arts & Sciences.
Feliz cumpleaños, José!
Adapted from Wikipedia. A YouTube video of Feliciano playing "Malagueña" can be viewed here.
Photo: Wikipedia (CC)