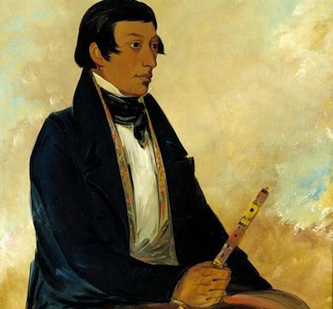 On this day in Native American history, the Miamis signed a treaty with the United States in 1838 ceding practically all of its lands south of the Wabash River in Indiana. But the signing of the treaty came in the context of wars, previous forced removals, and the 1830 Indian Removal Act signed into law by President Andrew Jackson.
In "Native Americans in Indiana: Resistance and Removal," author David G. Vanderstel writes:
"The Miamis constituted one of the largest groups, encompassing Wea and Piankeshaw tribes as well." Other tribes in the area considered Indiana now during the late 1700s and early to mid 1800s included the Delawares, the Shawnees and the Potawatomies.
"The treaties of 1834, 1838, and 1840 completed the efforts of the United States government to remove the Indian population from the state of Indiana. … they were then relocated across the Mississippi to present-day Iowa and Missouri. According to the Miami treaties of November 6, 1838 and November 28, 1840, the tribe ceded all lands south of the Wabash River called the 'residue of the Big Reserve,' which essentially constituted all the remaining Indian lands in Indiana."
Months before the Miamis signed the 1838 treaty, the Potawatomi village of Chief Menominee refused to leave its land in Indiana and relocate to Kansas. On August 30, 1838, General John Tipton mobilized 100 soldiers and surrounded the village, called Twin Lakes, and began to round up the Potawatomi, 859 in all. They burned the crops and homes of the Potawatomi to discourage them from trying to return. On Sept. 4, the march to Kansas began and on Nov. 4, of the 859 villagers, 756 Potawatomi reached Osawatomie, Kansas, 660 miles away. Forty-two were recorded as having died; the remainder were said to have escaped. The forced removal of Chief Menominee's tribe is commemorated as the 1838 Potawatomi Trail of Death.
Photo: This 1830 George Catlin painting portrays Miami chief Kee-món-saw, Little Chief (Smithsonian American Art Museum/Public Domain)