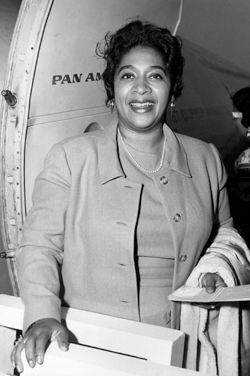 Betty Allen, opera mezzo-soprano, daughter of a steelworker and a mother who took in laundry, was born March 17, 1927, in Campbell, Ohio, near Youngstown. Allen, along with her college classmate Leontyne Price, was part of the first wave of African American singers to appear on the world's leading opera stages after World War II.
Allen's father was a college educated math teacher who worked in a steel mill because racism prevented him from being hired in the public school system during the 1930s.
Growing up in a working class community, Elizabeth Louise (Betty Lou) Allen heard opera on the streets, from neighbors' radios.
"The families on my street were mostly Sicilian and Greek," she told The New York Times in 1999. "On Saturday, walking down the street, you could hear the Met (Metropolitan Opera) broadcasts coming from the windows of everybody's house. No one told them that opera and the arts were not for them, not for poor people, just for rich snobs."
After her mother died when Allen was 12, and her father became depressed and began drinking heavily, Allen went on her own to Youngstown and asked a judge to place her for adoption. "That judge didn't know what to do with me," she later told The Times. "You see, in those days, there was no orphanage for black children. You either had to be put in a detention home or you were put in a foster home. I chose to be put in foster homes."
Allen had a very rough time in a series of foster homes with both white and black foster parents. At 16, she moved into the Youngstown YWCA and supported herself by cleaning houses. She won a scholarship to all-black Wilberforce College in Wilberforce, Ohio, where, through the encouragement of a mentor teacher, she started on the path leading to her opera career.
From the 1950s to the 1970s Allen sang with the New York City Opera, the Metropolitan Opera and other opera companies around the U.S. and abroad. She performed frequently with Leonard Bernstein and the New York Philharmonic Orchestra.
Allen's singing career was cut short by chronic lung problems which she blamed on her childhood exposure to the steel mills.
She became a noted music educator, teaching at the Manhattan School of Music from 1969 until her death in 2009. A longtime resident of Harlem, Allen was an advocate for that community and served for 13 years as director and then president of the Harlem School for the Arts.
Photo: Betty Allen. Wikipedia