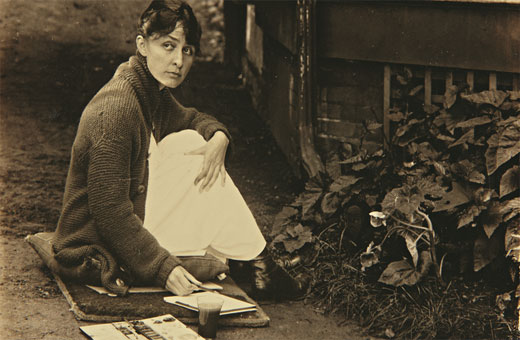 Georgia O'Keefe, one of the most renowned and honored American artists, died March 6, 1986, at the age of 98. O'Keefe is known for lush fantastical paintings of flowers, scenery and the American Southwest that led her to be dubbed the "mother of American modernism." Her famous large abstract-like close-up paintings of irises, lilies and other flowers have been considered erotic, and some feminist artists hailed her as a pioneer of "female iconography" – although O'Keefe denied such interpretations of her work.
O'Keefe was born to a family of dairy farmers in Sun Prairie, Wis., on Nov. 15, 1887. She studied art at the School of the Art Institute of Chicago and New York's legendary Art Students League, and also studied art and education at Teachers College of Columbia University. Early on she taught art in Texas public schools and in colleges, before devoting herself fully to what became a lifetime of painting.
Alfred Stieglitz, the photographer, was an early promoter of her art. The two fell in love and married in 1924, beginning a professional partnership that ended with Stieglitz's death in 1946. Stieglitz made more than 350 photographic portraits of O'Keefe, some showing her nude, which have become famous in their own right.
In later years O'Keefe settled in New Mexico, where the dramatic scenery inspired many of her most well-known paintings. Her home and studio in Abiquiu, N.M., were designated a National Historic Landmark in 1998. The Georgia O'Keefe Museum in Santa Fe, N.M., celebrates her art and legacy.
O'Keefe was honored with a U.S. postage stamp in 1996.
Photo: Georgia O'Keeffe, seated on a cushion on the ground, with her sketchpad and watercolors by her side, in a 1918 photo by Alfred Stieglitz. Wikimedia Commons