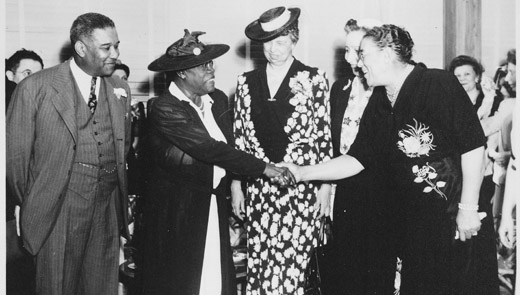 On March 5, in 1985 the U.S. Postal Service issued a commemorative honoring Mary McLeod Bethune.
Bethune (1875 – 1955) was a leader in the Civil Rights movement of the early and mid-20th century. She founded the National Council of Negro Women, helped lead the National Youth Administration, established by the Works Progress Administration and was part of the "Black Cabinet" during Franklin D. Roosevelt's presidency. The NAACP elected her vice president.
An educator, she founded Bethune-Cookman University, an historically black center of learning in Datona Beach, Florida.
Bethune was inducted into the National Women's Hall of Fame in 1973. She died in 1955 in Daytona Beach.
Photo: Mary McLeod Bethun, Eleanor Roosevelt and others at the opening of Midway Hall, one of two residence halls built by the Public Buildings Administration of FWA for Negro women working in government jobs. Wikimedia Commons.