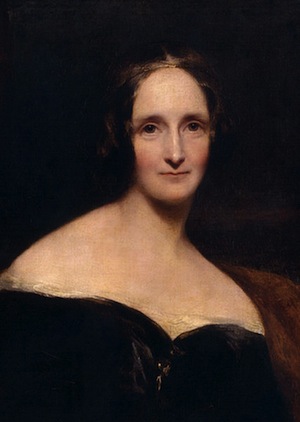 Today in women's history in 1818, "Frankenstein;" or, "The Modern Prometheus" is published. The book, by 21-year-old Mary Wollstonecraft Shelley, is frequently called the world's first science fiction novel. In Shelley's tale, a scientist animates a creature constructed from dismembered corpses. The gentle, intellectually gifted creature is enormous and physically hideous. Cruelly rejected by its creator, it wanders, seeking companionship and becoming increasingly brutal as it fails to find a mate.
Mary Shelley created the story on a rainy afternoon in 1816 in Geneva, where she was staying with her husband, the poet and revolutionary Percy Bysshe Shelley, and their friend Lord Byron. Byron proposed they each write a gothic ghost story, but only Mary Shelley completed hers. Although serving as the basis for the Western horror story and the inspiration for numerous movies in the 20th century, the book "Frankenstein" is much more than pop fiction. The story explores philosophical themes and challenges Romantic ideals about the beauty and goodness of nature.
Mary Shelley led a life nearly as tumultuous as the monster she created. The daughter of free-thinking philosopher William Godwin and feminist Mary Wollstonecraft, she lost her mother days after her birth. (Wollstonecraft had written, "A Vindication of the Rights of Women" in 1792.) She clashed with her stepmother and was sent to Scotland to live with foster parents during her early teens, then eloped with the married poet Shelley when she was 17. After Shelley's wife committed suicide in 1817, the couple married but spent much of their time abroad, fleeing Shelley's creditors. Mary Shelley gave birth to five children, but only one lived to adulthood. Mary was only 24 years old when Shelley drowned in a sailing accident; she went on to edit two volumes of his works. She lived on a small stipend from her father-in-law, Lord Shelley, until her surviving son inherited his fortune and title in 1844. She died at the age of 53.
Until the 1970s, Mary Shelley was known mainly for her efforts to publish Percy Shelley's works and for her novel Frankenstein, which remains widely read and has inspired many theatrical and film adaptations. Recent scholarship has yielded a more comprehensive view of Mary Shelley's achievements. Scholars have shown increasing interest in her literary output, particularly in her novels, which include the historical novels Valperga (1823) and Perkin Warbeck (1830), the apocalyptic novel The Last Man (1826), and her final two novels, Lodore (1835) and Falkner (1837). Studies of her lesser-known works such as the travel book Rambles in Germany and Italy (1844) and the biographical articles for Dionysius Lardner's Cabinet Cyclopaedia (1829-46) support the growing view that Mary Shelley remained a political radical throughout her life. Mary Shelley's works often argue that cooperation and sympathy, particularly as practiced by women in the family, were the ways to reform civil society. This view was a direct challenge to the individualistic Romantic ethos promoted by Percy Shelley and the Enlightenment political theories articulated by her father, William Godwin.
Photo: An 1840 portrait of Mary Shelley painted by Richard Rothwell (CC).