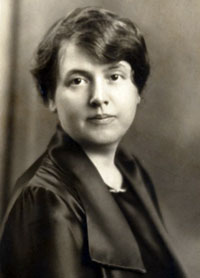 On this day in 1882, suffrage activist Minnie Fisher Cunningham was born in New Waverly, Texas. Her father, Horatio White, worked as a planter and introduced his daughter to politics by taking her to political meetings in the nearby town of Huntsville.
At the age of 16, Cunningham earned a teaching certificate and taught for a year before enrolling in the medical branch of the University of Texas in Galveston. In 1901 she became one of the first female Texans to receive a degree in pharmacy. She subsequently spent a year working in Huntsville as a pharmacist, but grew dissatisfied with the gender-biased wage inequality there, and eventually quit.
Cunningham truly began to work as an activist in 1910 when she was elected president of the Galveston Equal Suffrage Association and toured her home state to speak out for the right for women to vote. She began a campaign in 1917 that ultimately resulted in legislative approval for women's suffrage in state primary elections a year later.
Cunningham had continued involvement with the Democratic Party and through her support of women's rights, and campaigned to get rid of corrupt Texas Gov. James E. Ferguson, which was one of the factors that led to his impeachment.
Cunningham died of heart failure on December 9, 1964 and was buried at the Hardy Cemetery in New Waverly, Texas.
Photo: WomeninTexashistory.org/Wikipedia