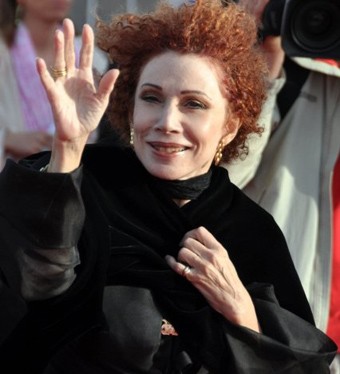 Julia Migenes, the American mezzo-soprano working primarily in musical theater repertoire, was born on this date, March 13, 1949, on the Lower East Side of New York to a family of Greek and Irish-Puerto Rican descent. (She is sometimes credited as Julia Migenes-Johnson.) Despite a difficult and violent childhood, she discovered her calling playing the child role in Puccini's Madame Butterfly, where she first experienced the power and emotion of music linked to a stage setting. She graduated from the High School of Music & Art in New York City.
Migenes was chosen by Leonard Bernstein to be a soloist in his Young People's Concerts, and went on to create the role of Tevye's daughter Hodel in the original 1964 Broadway production of the long-running musical Fiddler on the Roof. She has also interpreted Maria in West Side Story.
Understanding that her real gift was singing, she became a cover for roles at the Metropolitan Opera in New York. While substituting for the title role of Alban Berg's Lulu, renowned for its technical difficulty, she was cheered and acclaimed by the public, launching her opera career.
Word of this new star crossed the Atlantic, where Maurice Béjart was desperately searching for his Salome to be staged in Geneva. Julia Migenes embodied the ideal combination for this role: a world-class opera singer and a graceful dancer.
While on stage in Geneva as Salome, the Italian film director Francesco Rosi was casting for his forthcoming 1984 film of Carmen, whose lead role required not only an opera singer and dancer but also an actress sensual enough to personify the burning passion of Bizet's character on film. Migenes immortalized her performance in a motion picture that has since become a reference point in the filmed opera genre. The soundtrack not only brought her a Grammy Award but even more worldwide notoriety that granted her access to the greatest theaters in the world.
Julia Migenes has recorded more than 20 albums, among them "Vienna" conducted by Lalo Schifrin, a Gold record six months after its release, Man of la Mancha, with Plácido Domingo, Samuel Ramey, and Mandy Patinkin, operetta, opera, American pop music and jazz.
In 1998, Migenes wrote Diva on the Verge, a one-woman-show mingling monologue and opera often mocking its rigid world, revealing her daring wit and sense of humor. In 1999, she performed this show in French in Paris and throughout France and French-speaking countries. She also prepared a Spanish version of this show for a tour in Spain and Latin America. She continues to present the English version throughout the U.S.
In 2001 she created Passions Latines, a choreographed recital in which she interprets a repertoire of Latin music, both classical and traditional, from Granados and Villa Lobos, to flamenco, tango and the great contemporary salsa songs. She presented this show at the Paris Olympia in 2002, followed by several international summer festivals. Her program dedicated to sacred songs premiered at the Fès Festival of Sacred Music in Morocco in 2003. In 2006 she premiered her show Alter Ego at the Théâtre du Châtelet in Paris and toured it throughout Europe until the end of 2007.
She was also part of the cast along with soprano Barbara Hendricks of a new opera Angels in America by Peter Eötvös, based on the Tony Kushner play, which was created at the Théâtre du Châtelet in Paris in November 2004.
Julia Migenes released the CD "Hollywood Divas," dedicated to the greatest actresses of cinema, summoning up the careers of such legendary stars as Marilyn Monroe, Rita Hayworth, Marlene Dietrich and Carmen Miranda.
We celebrate the extraordinary and remarkably wide-ranging career of a great musical talent born on the Lower East Side.
From combined sources.
Photo: Wikipedia (CC)