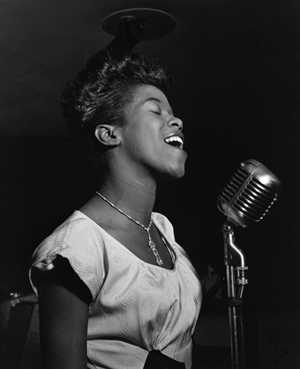 Legendary jazz singer Sarah Vaughan was born on this date in Newark, N.J., in 1924. Vaughan was renowned for her melodic improvising, wide vocal range and extraordinary technique. She began her career by winning an amateur contest at New York's Apollo Theater in 1943. Hired by Earl "Fatha" Hines to accompany his band as his relief pianist as well as singer, she was given the name "The Divine One" by Chicago disk jockey Dave Garroway, a moniker that would stick for the rest of her life.
Vaughan started recording in 1944. Her early hits include "Tenderly," "It's Magic," and "Nature Boy." She recorded on Columbia, Mercury, Roulette and other smaller labels.
In immediate postwar years she began performing regularly at Café Society Downtown, an integrated club in New York's Sheridan Square.
Vaughan began achieving substantial critical acclaim, winning Esquire magazine's New Star Award for 1947 as well as awards from Down Beat and Metronome magazines. Her commercial success peaked in 1959 with "Broken Hearted Melody," which she considered "corny" but which became her first gold record and a regular part of her concert repertoire for years.
Appearances at Carnegie Hall, the Newport Jazz Festival, and in many European concert houses cemented her reputation as one of the great singers of her time. In 1964 she made her first appearance at the White House, for President Johnson.
In the 1970s the song "Send in the Clowns," from Stephen Sondheim's A Little Night Music, would become her signature, replacing her early chestnut "Tenderly."
In 1974, conductor Michael Tilson Thomas asked Vaughan to participate in an all-Gershwin show with the Los Angeles Philharmonic at the Hollywood Bowl. They repeated the performance over the next few years with symphony orchestras around the country. Her symphonic Gershwin program with the New Jersey Symphony in 1980 was broadcast on PBS and won her an Emmy Award. The CBS Records release of "Gershwin Live!" won Vaughan the Grammy award for Best Jazz Vocal Performance, Female.
In 1985, Vaughan received a star on the Hollywood Walk of Fame, and in 1988 she was inducted into the American Jazz Hall of Fame. The National Endowment for the Arts bestowed upon her its "highest honor in jazz," the NEA Jazz Masters Award, in 1989.
We also mark the 25th anniversary of her passing at age 66, on April 3, 1990, in Los Angeles. Vaughan's funeral was held at Mount Zion Baptist Church in Newark, the same congregation she grew up in. A horse-drawn carriage transported her body to its final resting place at Glendale Cemetery in Bloomfield, N.J.
Though usually considered a "jazz singer," Vaughan avoided classifying herself as one. She discussed the term in a 1982 interview for Down Beat:
"I don't know why people call me a jazz singer, though I guess people associate me with jazz because I was raised in it, from way back. I'm not putting jazz down, but I'm not a jazz singer…. I've recorded all kinds of music, but (to them) I'm either a jazz singer or a blues singer. I can't sing a blues – just a right-out blues – but I can put the blues in whatever I sing. I might sing 'Send In the Clowns' and I might stick a little bluesy part in it, or any song. What I want to do, music-wise, is all kinds of music that I like, and I like all kinds of music."
Adapted from Chase's Calendar of Events and Wikipedia.
Photo: Sarah Vaughan, possibly at Cafe Society, NYC, ca. August 1946. Photography by William P. Gottlieb. United States Library of Congress's Music Division under the digital ID gottlieb.08821. Public Domain.