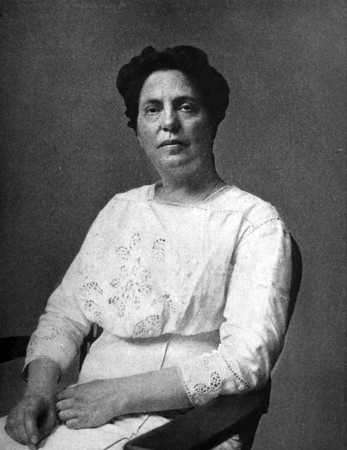 Founder of the Henry Street Settlement House in Lower Manhattan, Lillian Wald was born on March 10, 1867, in Cincinnati, Ohio, to a family of German Jewish professionals, and spent her youth in Rochester, N.Y.
Born into a life of comfort, at age 22 she came to Manhattan to attend the New York Hospital School of Nursing and teach community health classes. From these beginnings, Wald became one of the most influential and respected social reformers of the 20th century, and a tireless and accomplished humanitarian.
In 1893, at the age of 25, after witnessing first-hand the poverty and hardship endured by immigrants on the Lower East Side, she founded the Henry Street Settlement. She moved into the neighborhood where, living and working among the industrial poor, she and her colleagues offered health care to area residents in their homes on a sliding fee scale. Wald was soon devoting herself to the community full-time. In addition to health care, Henry Street provided an astonishing array of innovative and effective social, recreational and educational services.
The Henry Street Settlement attracted the attention of prominent philanthropist Jacob Schiff, who secretly funded Wald with the means to more effectively help the children of Russian and many other immigrants. She had 27 nurses on staff by 1906, and she won a broad base of philanthropic and community financial support. By 1913 the staff had grown to 92 nurses making 200,000 visits per year, and the Settlement had expanded to seven buildings on Henry Street and two satellite centers, with 3,000 members in its classes and clubs. The Settlement eventually expanded into the Visiting Nurse Service of New York, which broke off as a separate entity in 1944.
In 1915, the Neighborhood Playhouse, one of the first "Little Theatres," was created as a Settlement project by the sisters Alice and Irene Lewisohn at the corner of Grand and Pitt Streets, offering classical drama for the people of the area. The theatre still operates, as the Harry De Jur Playhouse. Many well-known actors have cited their exposure to the playhouse as their earliest theatrical influence. In 1927 the Henry Street Music School began operation.
Wald also taught women how to cook and sew, provided recreational activities for families, and was involved in the labor movement. Out of her concern for women's working conditions, she helped to found the Women's Trade Union League in 1903 and later served as a member of the executive committee of the New York City League. In 1910, Wald and several colleagues went on a six-month tour of Hawaii, Japan, China, and Russia, a trip that increased her involvement in worldwide humanitarian issues.
Wald was an early leader of the Child Labor Committee, which became the National Child Labor Committee (NCLC). The group lobbied for federal child labor laws and promoted childhood education. In the 1920s, the organization proposed an amendment to the U.S. constitution that would have banned child labor.
Concerned about the treatment of African Americans, she insisted that all Henry Street classes be racially integrated. In 1909, she became a founding member of the National Association for the Advancement of Colored People (NAACP). The organization's first major public conference opened at the Henry Street Settlement.
Wald organized New York City campaigns for suffrage, marched to protest the entry of the United States into World War I, joined the Woman's Peace Party and helped to establish the Women's International League for Peace and Freedom, which still exists. In 1915 she was elected president of the newly formed American Union Against Militarism. She remained involved with its daughter organizations, the Foreign Policy Organization and the American Civil Liberties Union, after the United States joined the war.
Wald pioneered public health nursing by placing nurses in public schools, and by helping found the National Organization for Public Health Nursing and Columbia University's School of Nursing.
As headworker of Henry Street Settlement for 40 years, until 1933, Wald drew from global intellectual currents of reform – especially networks of women and progressives – as she integrated her Settlement into powerful political networks for social change. She established herself as a courageous national leader in campaigns for social reform, public health and anti-militarism, and as an international crusader for human rights.
Wald never married. She maintained her closest relationships and attachments with women. Although she never self-identified as a lesbian, correspondence reveals that Wald felt intimate affection for at least two of her companions, homemaking author Mabel Hyde Kittredge and lawyer Helen Arthur. She died in 1940 at the age of 73.
The Settlement survives still, serving about 50,000 people each year. Clients include low-income individuals and families, survivors of domestic violence, youngsters ages 2-21, individuals with mental and physical health challenges, senior citizens, and arts and culture enthusiasts who attend performances, classes and exhibitions at Henry Street's Abrons Arts Center. Programs are also offered at 17 sites throughout the area, many of them located in buildings operated by the New York City Housing Authority.
The Settlement's ca. 1832 federal row houses at 263, 265 and 267 Henry Street were designated New York City landmarks in 1966, and these buildings, along with the Neighborhood Playhouse building at 466 Grand Street, were collectively designated a National Historic Landmark in 1989. Lillian Wald was elected to the Hall of Fame for Great Americans in 1970.
Sources: www.henrystreet.org and Wikipedia.