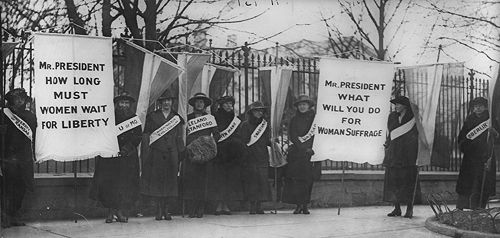 On March 3, 1913 supporters of the right of women to vote marched in Washington D.C., disprupting the inauguration of President Woodrow Wilson.
When Wilson's train arrived in Washington very few people came out to greet him. Instead, hundreds of thousands were lining Pennsylvania Avenue, watching the women march. Suffragettes Alice Paul and Lucy Burns led the parade, demanding a federal suffrage amendment, gaining the vote for women.
The marchers wore costumes, with many standing on floats. One participant dressed as the Statue of Liberty and posed on the steps of the Treasury building for news photographers.
Opponents of the vote for women were among the crowds lining the sidewalk. Some hurled insults but some others spit at the women and threw lighted cigar butts at them. Still others slapped and even grabbed and beat women marchers. The police ignored the attacks.
Army troops from Fort Myers had to be called in to stop the violence after 200 women were injured.
Public outcry against the police and their failure to protect the women resulted in an investigation by the District of Colunbia and the ousting of the police chief.
The attackers ended up generating more support for the women's movement. In New York, the annual woman suffrage parade in 1913, held on May 10, drew 10,000 marchers, five percent of whom were men. 500,000 watched the paraders, cheering them on.
Photo: SEIU Local 1000