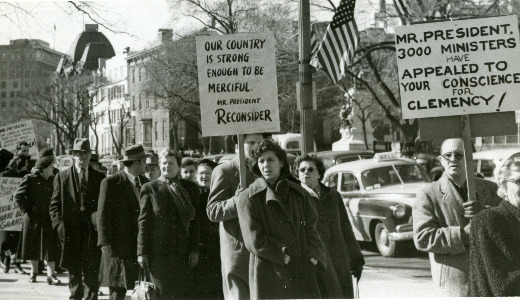 Today in women's history, March 6, 1951, the disgraceful trial of Ethel and Julius Rosenberg begins in New York Southern District federal court. Notorious Judge Irving R. Kaufman presided over the shameful prosecution of the couple, which ended in their execution on June 19, 1953. Ethel Rosenberg was one of only a handful of women executed in the history of the United States.
The case galvanized a mass movement to try and save the couple. The frame up of the Rosenbergs, fueled by Cold War, anti-communism and anti-Semitism, remains a terrible blot on our nation's history – a gross miscarriage of justice.
Following a lawsuit by the independent National Security Archive and a coalition of historians, secret court documents were finally released. They revealed that the claims used to convict Ethel – and thereby send the couple, parents of two young children, to the electric chair – were nowhere to be found in the original testimony, proving the U.S. government had executed an innocent woman.
After the documents' release one of the Rosenbergs' sons, Robert Meeropol, issued a statement with profound conclusions.
"All that I have learned in the last week," he wrote, "coupled with all that I have gleaned from the information already available, reinforces the biggest lesson to be taken from my parents' case – that the U.S. government abused its power in truly dangerous ways that are still very relevant today. "Those in power who were involved in my parents' case:
* Created and fueled anti-communist hysteria
* Capitalized on that political climate by targeting my parents, then making them the focus of the public's Cold-War-era fear and anger
* Manufactured testimony and evidence
* Facilitated judicial misconduct
* Hounded witnesses for their political beliefs and associations rather than about any alleged illegal activities
* Arrested Ethel simply as leverage to try to get Julius to cooperate with the prosecution
* Used the ultimate weapon – the threat of death – to try extort a confession from my parents and to force them to name and testify against others
* Created the myth that there was a key "secret" of the atomic bomb, and then devised a strategy to make it appear that Julius had sought out and passed on that "secret"
* Executed Julius when he refused to cooperate, despite knowing that the "secret" used to justify the death penalty was a prosecution-created fallacy
* Executed Ethel when she refused to cooperate, despite knowing that she was not guilty of ANY charges against her and was not an active participant in ANY espionage activities.
"And finally, the agencies and individuals involved in my parents' case systematically and emphatically covered up and denied all these abuses."
Ethel and Julius' execution is the epitome of a shameful period in U.S. history. Observers say the struggle to save the Rosenbergs and their refusal to bend even to save their own lives inspired the ultimately successful fight to defeat McCarthyism and to save American democracy.
The demand that the U.S. government exonerate both Ethel and Julius remains alive today.
Photo: Washington, D.C., White House vigil for clemency for the Rosenbergs, February 1953. (Courtesy of the Daily Worker/Daily World Photographs Collection at the Tamiment Library/Robert F. Wagner Labor Archives, New York University)