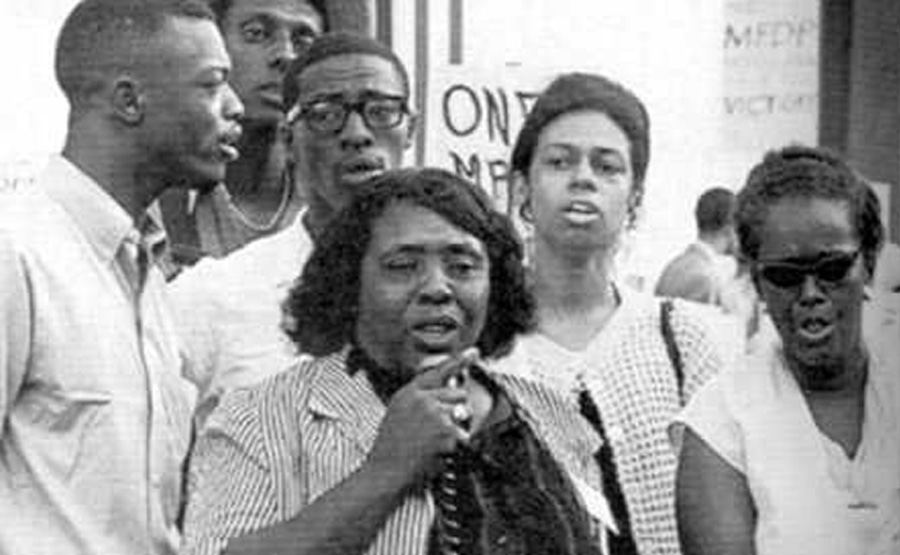 On this day 100 years ago, October 6, 1917, Mississippi civil rights activist Fannie Lou Hamer was born in Montgomery County, Miss. Hamer campaigned famously for voting rights in Mississippi and helped lead the "Freedom Summer" campaign. A staff member of the Student Non-Violent Coordinating Committee (SNCC) she worked alongside the Southern Christian Leader Conference (SCLC) and the Congress of Racial Equality (CORE) on the voting rights drive.
Hamer founded the Mississippi Freedom Democratic Party, formed to counter the exclusion of African Americans from the state's Democratic Party and attempted to seat delegates at the 1964 Democratic National Convention in Atlantic City, N.J. Describing the systematic racial prejudice practiced against Mississippi's black citizenry she said, "All of this is on account we want to register, to become first-class citizens, and if the Freedom Democratic Party is not seated now, I question America. Is this America, the land of the free and the home of the brave where we have to sleep with our telephones off the hooks because our lives be threatened daily because we want to live as decent human beings—in America?"
Hamer ran twice for Congress and died at the age of 59 in her home state. Her tombstone in Ruleville, Miss., is engraved with one of her famous quotes: "I am sick and tired of being sick and tired."
An earlier version of this article was published in PW March 14, 2013.