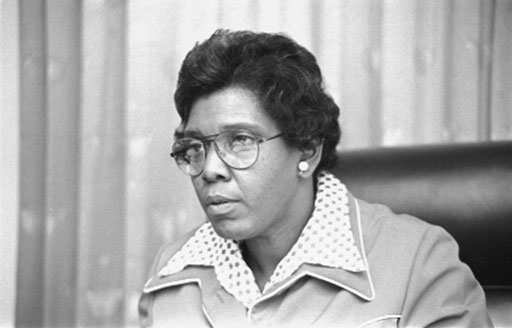 Happy birthday Congresswoman Barbara Jordan! Today, February 21, would have been the late Texas congresswoman's 75th birthday.
The daughter of a minister and domestic worker, Barbara Jordan was the first black woman elected to the Texas Senate and the first black woman elected to the U.S. Congress from the deep South.
Jordan was elected to Congress in 1972 and served there until the late 1970s.
Attorney General Eric Holder, speaking recently at her Texas high school, said, "Throughout her life, Barbara Jordan was a firm believer in the need for civic engagement – and in the ability of Americans to bridge long-standing divisions, to overcome a history of injustice and inequality, and to build a future that reflects this nation's founding ideals."
He continued, "In an era when racial discrimination was institutionalized and segregation was the law of the land, this courageous young woman found hope in the promise that inspired our nation's beginning."
Because of segregation Jordan, an aspiring attorney, was not able to attend the University of Texas in Austin. She enrolled in Texas Southern University instead.
Jordan came to national prominence during the congressional Watergate hearings, a point noted by Holder. She keynoted the Democratic Party convention in 1976 and made there one of the great speeches of the 20th century. A bid was made for her to become Jimmy Carter's running mate.
A California coalition named after her and Bayard Rustin was formed in California to promote marriage equality in 1990. Jordan's partner for many years was Nancy Earl.
Later in life Jordan was disabled by multiple sclerosis and worked from a wheelchair. She died in 1996.
She published an autobiography, "Barbara Jordan: A Self Portrait," in 1979. Last year a postage stamp honoring her was issued by the U.S. Postal Service.
Photo: Wikimedia Commons