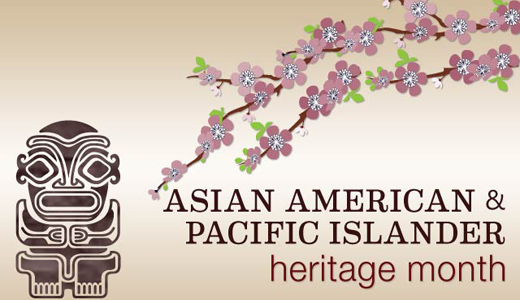 Asian American and Pacific Islander Heritage Month takes place each May, celebrating the culture, traditions, and history of Asian Americans and Pacific Islanders in the United States.
In June 1977 Reps. Frank Horton (N.Y.) and Norman Y. Mineta (Calif.) introduced a resolution to proclaim the first ten days of May as Asian-Pacific Heritage Week. (During World War II the Mineta family was interned for several years in the Heart Mountain internment camp near Cody, Wy., along with thousands of other Japanese immigrants and Japanese Americans.)
A similar bill was introduced in the Senate a month later by Daniel Inouye and Spark Matsunaga, both from the state of Hawaii. (Inouye fought in World War II as part of the famous 442nd Infantry Regiment, lost his right arm to a grenade wound and received several military decorations. Matsunaga became a U.S. Army Reservist in 1941, volunteered for active duty in July that year, and was twice wounded in battle while serving with the 442nd Regimental Combat Team and the 100th Infantry Battalion.)
The month of May was chosen to commemorate the immigration of the first Japanese to the United States on May 7, 1843, and to mark the anniversary of the completion of the transcontinental railroad on May 10, 1869. The majority of the workers who laid the tracks were Chinese immigrants. President Jimmy Carter signed a joint resolution for the celebration on October 5, 1978.
In 1990, George H.W. Bush signed a bill passed by Congress to extend Asian-American Heritage Week to a month. President Barack Obama's proclamation of AAPI Month for 2015 can be found here.
During this month, communities celebrate the achievements and contributions of Asian and Pacific Americans with community festivals, government-sponsored activities, museum exhibitions and educational activities for students.
Northeast and East
Asian-Pacific American Heritage Month at the Altoona, Penn., Penn State campus, first begun 2010
Asian-Pacific American Heritage Month at the Waltham, Mass., Brandeis University campus, first became a month-long celebration in 2002
Asian Pacific American Heritage Festival in New York City, first begun 1981
Silk Screen Asian American Film Festival in Pittsburgh, Penn., first begun 2005
National Asian Heritage Festival in Washington, D.C.
West Coast
Asian-Pacific Islander Heritage Month at the Portland, Ore., Lan Su Chinese Garden
Asian Cultural Festival of San Diego, first begun 2009
Los Angeles Asian Pacific Film Festival, first begun in 1983
Pacific Rim Street Fest in Sacramento, California, first begun in 1992
Asian Pacific American Heritage Festival at the Oakland Asian Cultural Center in Chinatown, Oakland, Calif.
Asian Heritage Street Celebration in San Francisco
Asian Pacific Islander Festival in Seattle; also AAPI Month at the Wing Luke Asian Museum in Seattle
South and Southeast
Asian Kaleidoscope Month at the University of Florida in Gainesville, Fla.
Asian Awareness Month at Florida State University in Tallahassee, Fla.
Asian Festival in Dallas, Texas, first begun 1990
Asian Pacific American Heritage Festival in Houston, Texas
Midwest
Asian Pacific American Heritage Month Celebration at the University of Illinois's Urbana-Champaign campus
Cleveland Asian Festival in Cleveland, O., first begun in 2010
In addition, the National Queer Asian Pacific Islander Alliance Conference, first held in 2007, meets in Chicago this August 6-9.
Adapted from Wikipedia.
Photo: PBS SoCal