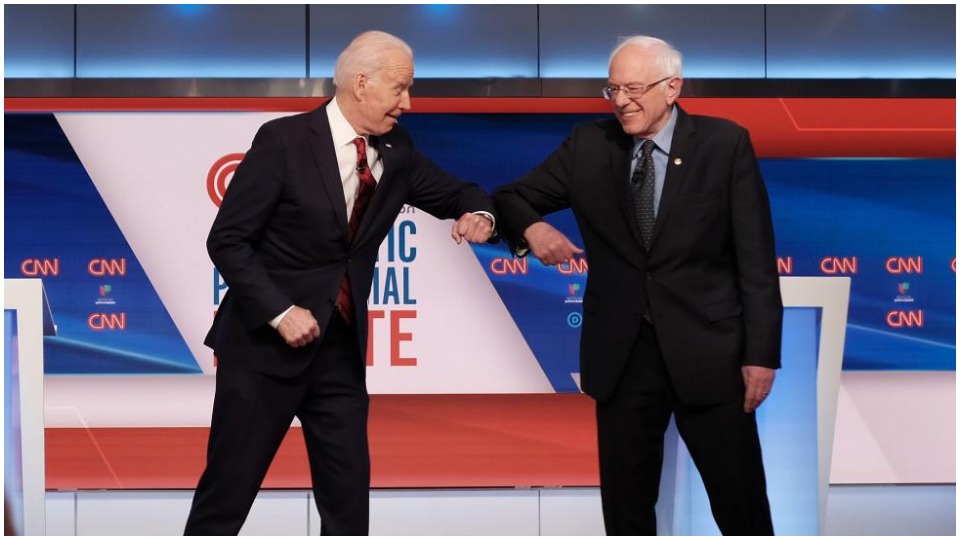 WASHINGTON—If you want the global view of how the U.S. health care non-system is ill-equipped to help people cope with the coronavirus pandemic, Democratic presidential hopeful Sen. Bernie Sanders, Ind-Vt., has a solution for you. It's in his speech on March 12.
If you want point-by-point, detail-by-detail proposals on what the federal government can and should do to help people cope with—or avoid—the coronavirus pandemic, both its health threat and its economic impact, former Vice President Joe Biden has those specifics, all 6,953 words of them, for you.
Put the two together and you have both a program for immediate response as well as an outline for the bigger systemic reforms needed in the long-term.
If you want platitudes, blame-shifting, hot air, and outright lies, some of which his own staff had to walk back within an hour of the finish of his 10-minute speech on March 11, GOP President Donald Trump has that for you, too.
But as the Democratic presidential primary campaign continues, with Biden taking an ever-widening delegate lead, the contrast between how Biden and Sanders attack the coronavirus epidemic is also symbolic of how they approach the campaign overall.
Biden speaks to nuts and bolts, to immediate change, some of it is incremental and some of it more sweeping. And he links it to other issues, including worker rights.
Biden's coronavirus plan includes strengthening the right to organize, because organized workers then have the power to demand—and get—health care coverage, including coronavirus coverage, for themselves, and better care for their patients.
He also would sic the Justice Department on price-gougers, though he did not single out specific industries. Sanders did: Big Pharma.
Sanders views his solutions through the prism of large problems and ideas: Income inequality as a lead weight on workers and the economy, and Medicare-For-All as a big solution to making health care, including coronavirus care, a right for everyone.
He issues a stark warning in his speech. He believes we could have more deaths from the coronavirus than in World War II. Just short of 300,000 U.S. service members died in battle then, along with 120,000 non-combat deaths, The 1918-19 Spanish flu epidemic killed 500,000 in the U.S.
Sanders's key recommendations
Sanders outlined some big-picture solutions in his March 12 speech, one day after Trump talked.
"If there ever was a time in the modern history of our country when we are all in this together, this is that moment…Now is the time to come together with love and compassion for all, including the most vulnerable people in our society who will face this pandemic from a health perspective or face it from an economic perspective," he stated, alternating his proposals with criticism of Trump's failures on all those fronts.
"If our neighbor or co-worker gets sick, we have the potential to become sick. If our neighbor loses his or her job, then our local community suffers, and we may lose our jobs. We are in this together. If doctors and nurses and medical personnel do not have the equipment and the training and the capacity they need right now, people we know may unnecessarily face additional illness and even death. We are all in this together."
Sanders' key recommendations, none of which he mentioned in his March 15 presidential hopefuls' debate with Biden, include:
> Convening "an emergency bipartisan authority of experts to support and direct a response that is comprehensive, compassionate, and based first and foremost, on science and facts." In other words, "Congress in a bipartisan manner must take responsibility for addressing this unparalleled crisis" since Trump won't.
> The government "must determine the status of our testing and processing for the coronavirus" and "respond aggressively to make certain we, in fact, have the latest and most effective tests available and the quickest means of processing those tests. There are other countries around the world who are doing better than we are in that regard. We should be learning from them."
The feds must also demand and get immediate private sector increases in production of ventilators and intensive care units for hospitals, Sanders said.
> A ban on Big Pharma price-gouging and a mandate the firms sell a vaccine, if and when they develop one, for the cost of production. And there would be no more tax breaks for big business, on the scale of Trump's $1.7 trillion tax cut.
"The pharmaceutical industry must be told in no uncertain terms the medicines they manufacture for this crisis will be sold at cost. This is not the time for price gouging or profiteering," Sanders said.
> Establish "national and state hotlines staffed with well-trained people who have the best information available." Biden would also set up such hotlines.
"One of the aspects of the current crisis is there are people who are asking themselves, 'What are all the symptoms of coronavirus?'" Sanders said. "'Well, I have a cold. Do I have the flu? Do I have the coronavirus? Who's going to help me? Where do I go to seek medical treatment? How do I get a test? When is that test going to be processed?' People have a lot of questions…We need experts to provide the necessary information to our people."
> Priority care for "the most vulnerable communities" in nursing homes, rehab facilities, immigration detention centers, and in jail. Sanders also advocates "an immediate expansion of community health centers" where people can go for treatment. Those health centers are often in low-income rural areas and inner cities.
> While continuing to work for Medicare for All, the U.S. "today, must make it clear that in the midst of this emergency, everyone in our country, regardless of income or where they live, must be able to get all of the healthcare they need without cost," Sanders said.
"Obviously, when a vaccine or other effective treatment is developed, it must be free of charge. We cannot live in a nation where if you have the money, you get the treatment you need to survive. But if you're working class or poor, you get to the end of the line. That would be morally unacceptable."
> "Emergency funding for paid family and medical leave," which is in the House-passed emergency money bill to fund anti-coronavirus efforts. Biden supports that, too.
"Anyone who is sick should be able to stay home during this emergency and receive their paycheck. What we do not want to see is at a time when half of our people are living paycheck to paycheck, when they need to go to work in order to take care of their family, we do not want to see people going to work who are sick and who can spread the coronavirus," Sanders said.
> Temporarily solve the current shortage of doctors and nurses by mobilizing medical residents, retired doctors and nurses and other medical personnel and give them both instructions and personal protective equipment they need to safely treat coronavirus sufferers. "This is not only because we care about the well-being of medical professionals, but if they go down, then our capability to respond to this crisis is significantly diminished," Sanders explained.
> "Emergency unemployment assistance to anyone in this country who loses their job through no fault of their own." That would include gig economy workers, domestic workers, tipped workers, and so-called "independent contractors." Few in those groups are eligible for jobless benefits.
"Right now, 23% of those who are eligible to receive unemployment compensation do not receive it. Under our proposal, everyone who loses a job must qualify for unemployment compensation of at least 100% of their prior salary with a cap of $1,150 a week or $60,000 a year," Sanders explained.
Reps. Ro Khanna, D-Calif., a Sanders supporter, and Tim Ryan, D-Ohio, introduced similar legislation. They'd give checks to all the jobless, starting three weeks after their law takes effect, of $1,000-$6,000 monthly to anyone making less than $65,000 a year. The checks would last through the end of this year. They calculate 200 million people would get checks.
And Rep. Tulsi Gabbard, D-Hawaii—the third Democratic presidential hopeful, whom the party omitted from the Sanders-Biden debate—introduced legislation based on a proposal by fellow past presidential hopeful Andrew Yang, for $1,000 monthly checks for everyone. Rep. Alexandria Ocasio-Cortez, D-N.Y., like Sanders a democratic socialist, is Gabbard's co-sponsor. Like Sanders, Gabbard does not have a specific anti-coronavirus plan posted on her campaign website.
> Expansion of Meals on Wheels, school lunches, and food stamps to ensure the needy elderly and kids get nutritious food. That expansion is also part of the House-passed legislation.
"An immediate moratorium on evictions, on foreclosures, and on utility shutoffs so that no one loses their home during this crisis, and that everyone has access to clean water, electricity, heat and air conditioning." On March 16, Gov. Larry Hogan, R-Md., banned eviction of Marylanders who can't pay the rent because the workers have lost their jobs to the coronavirus, among other aid for workers.
> Immediate construction of emergency shelters for the homeless, domestic violence survivors, and college students quarantined off-campus.
> Emergency lending to small and medium businesses to build factories to produce anti-coronavirus supplies, such as masks and ventilators.
Biden's main proposals
Biden mentioned some details of his extensive plan during his March 15 back-and-forth with Sanders. Some of his points were identical to those of the Vermont senator.
Biden also said the U.S. needs "disciplined, trustworthy leadership" grounded in science, to lead the fight. We must "ensure public health decisions are made by public health professionals and not politicians, and officials engaged in the response do not fear retribution or public disparagement for performing their jobs," he added.
Biden had more, including:
> "The wide availability of free testing, the elimination of all cost barriers to preventive care and treatment for COVID-19, development of a vaccine and the full deployment and operation of necessary supplies, personnel, and facilities." That includes the military and its capability to quickly set up and staff field hospitals.
> "A decisive economic response that starts with emergency paid leave for all those affected by the outbreak and gives all necessary help to workers, families, and small businesses hit hard by this crisis."
But Biden didn't stop there. "Make no mistake: This will require an immediate set of ambitious and progressive economic measures and further decisive action to address the larger macro-economic shock from this outbreak," he added.
"We must spend whatever it takes, without delay, to meet public health needs and deal with the mounting economic consequences. The federal government must act swiftly and aggressively to help protect and support our families, small businesses, first responders and caregivers essential to help us face this challenge, those who are most vulnerable to health and economic impacts, and our broader communities – not to blame others or bail out corporations."
> "Ensure every person who needs a test can get one—and testing for those who need it is free. Individuals should also not have to pay anything out of their own pockets for the visit at which the test is ordered, regardless of their immigration status." But Biden would also ask the Centers for Disease Control (CDC) to consult with outside scientists on criteria and priority for coronavirus testing, including "prioritizing first responders and health care workers so they can return to addressing the crisis."
> "Expand CDC sentinel surveillance programs and other surveillance" to "offer tests not only to those who ask but also to those who may not know to ask, especially vulnerable populations like nursing home patients and people with underlying medical conditions." Private firms must collaborate, Biden added.
> Get the military involved and not just in setting up temporary hospitals. Biden would also "activate the Medical Reserve Corps… of nearly 200,000 volunteer health care professionals who stand ready to serve." He'd deploy Veterans Affairs Department equipment and Defense medical equipment and disaster assistance medical teams "to develop additional surge capacity" to handle tens of thousands of coronavirus sufferers needing hospital care.
> Mandate the Occupational Safety and Health Administration issue an emergency standard ordering hospitals and other health care facilities to put in place and implement their emergency plans to protect health care workers from coronavirus exposure.
The National Nurses United and the AFL-CIO already formally asked OSHA to issue the standard, and former OSHA Administrator Dr. David Michaels has said that under his leadership, the health care facilities had to develop such plans. But Trump stopped the standard.
> Mandate that "trained people and resources" should go first to areas that need it most, such as rural health centers and health clinics—and that new health care infrastructure should stay after the coronavirus pandemic runs its course.
> The feds should be "directing and assisting existing hospitals to surge care for 20% more patients than current capacity through flexible staffing, use of telemedicine support, and delaying elective procedures." And the government needs to liberate respirators and other protective equipment from federal emergency stockpiles, Biden said.
Biden would also have the CDC track hospital coronavirus admissions and supplies of essentials, such as ventilators, respirators, and personal protective equipment, to try to ensure individual hospitals could handle patient loads—and that nurses and doctors would be protected, too.
> "Give all frontline workers high-quality and appropriate personal protective equipment—and enough of it and appropriate training to use it—so they don't become infected. If our health care workers, first responders, and essential workers like transportation and food workers cannot function, we cannot protect and care for the public." The first responders and health care workers would be first in line for the protective equipment. And first responders would be trained to recognize coronavirus symptoms.
> Prepare for the next epidemic by crafting "a permanent, professional, sufficiently resourced public health and first responder system" through more biomedical research, rapid testing, disease surveillance, and "first-class" pay for health workers and first responders. Biden would also make budgets flexible so the feds can quickly mobilize and respond.
> After this crisis passes, make sure the medical supplies and devices are U.S.-made, so we do not have to turn to foreign suppliers who may be inadequate or unavailable. Independent analysts note many ingredients for U.S. medicines and medical supplies, including those needed to battle the coronavirus, come from overseas and specifically from China, where the outbreak started.
> "Instruct the CDC to provide clear, stepwise guidance and resources about both containment and mitigation for local school districts, health care facilities, higher education and school administrators, and the general public. Right now, there is little clarity for these groups about when to move toward social distancing measures, like canceling school, mass gatherings, and travel and when to move to telework and distance learning models," Biden's plan says.
> "An immediate increase in resources" i.e. more money, though Biden didn't say how much, to establish a new State and Local Emergency Fund to pay for combating pandemics. The money would be split between states (45%), local governments (45%), and "special assistance for 'hotspots' of community spread" of such dangerous viruses.
Governors and mayors will have "significant flexibility to ensure they can target their health and economic spending where it is most needed in their respective states and cities," Biden's plan says. They could use the money to pay for critical medical supplies, building more temporary hospitals, and hiring more health care and emergency workers, nursing home caregivers, drivers, childcare workers, substitute teachers, and other needed workers – and to pay them overtime, too.
"The fund will also be deployed to cushion the wider economic impact of the crisis, helping hard-hit families and communities," the Biden plan says.
> The key parts of Biden's worker section include seven days of paid sick leave immediately for coronavirus victims, and longer permanent paid sick and family leave, a top Democratic proposal. Biden would also push for extended jobless benefits for coronavirus victims while dropping rules the coronavirus-caused jobless must seek work to keep receiving benefits.
"The…expanded and broadened unemployment benefits ensure our unemployment benefit policies are responsive to the depth and nature of this health and economic crisis. That means more support for state offices that will face far higher demand. It means waiving or relaxing work history, waiting and work search requirements that could prevent millions who might lose work due to no fault of their own from being left out in the cold."
"The nature of the COVID-19 crisis means, however, that many who lose their jobs will be prevented from looking for work due to public health rules related to containing community spread. The Biden plan will ensure that workers who lose jobs but cannot meet search requirements due to this public health crisis are not denied benefits."