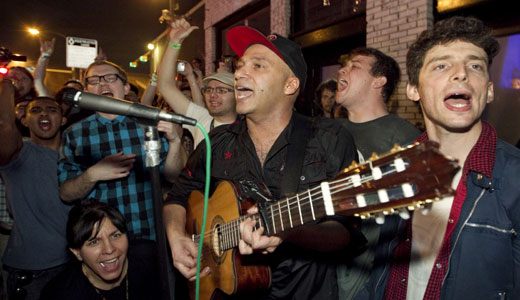 Perhaps no musician in the 21st century has stood up for the working class more than Tom Morello, who has provided words of encouragement and a rocking soundtrack to the Occupy movement and the struggles of workers and oppressed everywhere. Now, the guitarist has launched a free documentary called "World Wide Rebel Tour," which follows his newest music project, the Nightwatchman, performed in 42 countries.
Morello gave a spirited performance in May, during a day of action in Chicago with the National Nurses United, and more recently played in Madison, Wis., leading a valiant – but unfortunately, failed – effort to recall Republican Gov. Scott Walker.
"World Wide Rebel Tour" – which will be available in 30 languages – seems to be the next logical step forward in building solidarity by way of music.
The 30-minute film was directed by Bobby Roth and filmed at Hensen Studios in Los Angeles in August 2011. It features live Nightwatchman performances and a question-and-answer session with the guitarist, who, as it turns out, has as much to say as he has to play.
"The World Wide Rebel Tour is a virtual tour spanning the entire planet," Morello remarked of the documentary. "From Malawi to Myanmar, from Uzbekistan to the U.S., people's voices and their struggles have made their way into my music. I'm returning the favor with this global, rebel-rocking throwdown! Free. Everywhere."
Interviewers during the Q&A will include notable faces in the music scene, such as Serj Tankian – the vocalist from alternative metal band System of a Down. Tankian is the co-founder, alongside Morello, of nonprofit organization the Axis of Justice, which seeks to unite musicians, music fans, and political activists under a banner of solidarity and progressive action.
Morello will now campaign for the "Robin Hood tax" – a tax of less than one percent on Wall Street transactions, which organizers realize could generate hundreds of billions of dollars a year. The campaign has the backing of the National Nurses United, and co-launching the fight alongside Morello is actor Mark Ruffalo (who people may recognize most recently for his role in the Avengers film).
"A Robin Hood tax would raise revenue on Wall Street while reining in their worst excesses," explained Ruffalo. That would help to "rebalance the American economy," he said.
"The tax is surprisingly small," he remarked. "It would apply not to ordinary Americans, but to Wall Street's sprawling, churning, predatory casino-style trading that helped drive the financial crisis. The tax is capable of raising hundreds of billions of dollars per year. The money could stop foreclosures, fund new jobs, and help repair the social safety net in the U.S."
Tom Morello is well known for having been a member of punk/hard rock/rap metal band Rage Against the Machine, and hard rock band Audioslave – two bands responsible for the sales of a combined 30 million albums world wide, and the former known for being progressively political right down to its provocative lyrics.
But due to his involvement in Occupy movements throughout the U.S., his fight for Korean guitar workers, his advocacy for unions and working people, and his outrage toward the Right Wing, Morello has generated much support outside of the music scene, and has already played roles in key political moments in history.
Because of such efforts, Morello was presented with the Sidney Hillman Foundation Officer's Award at the 2012 Hillman Prizes. This was a notable achievement; prior recipients of this award include Eleanor Roosevelt, Martin Luther King Jr., Sen. Edward Kennedy, Harry Belafonte, and others.
Photo: Morello is joined by Occupy activists in singing Woody Guthrie's "This Land is Your Land." Jay Janner/AP & Austin American-Statesman