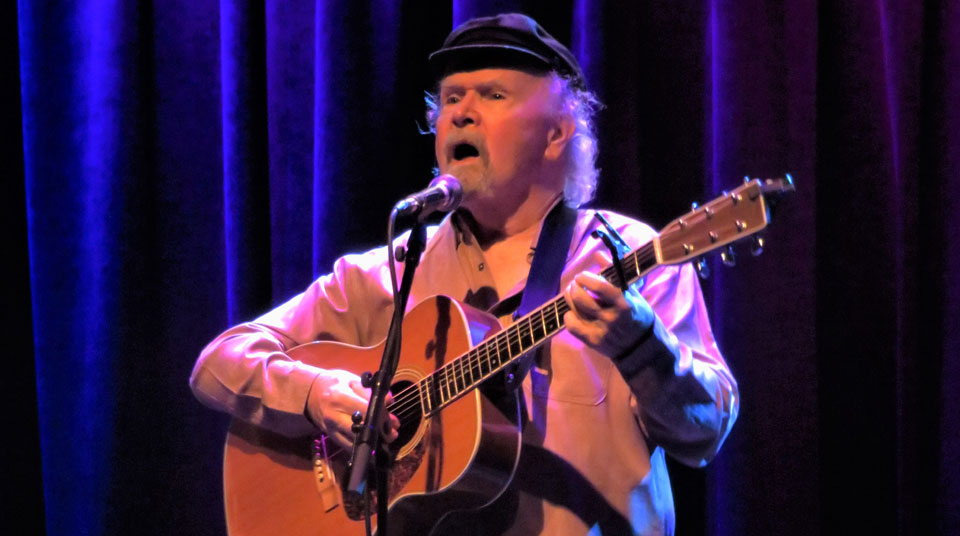 SELLERSVILLE, Pa. — He is an American folk-singing troubadour and his songs of love, life, and social justice have reached a worldwide audience. Tom Paxton, a pioneering voice of the folk music revival of the mid-twentieth century, has returned to live stage performances, enlightening both new and older fans alike.
Back on the road following the COVID-19 lockdowns, Tom Paxton recently graced the stage of the Sellersville Theater, nestled in the small, scenic Pennsylvania town of Sellersville. The craving for the return of live music was very apparent among the crowd. The audience was welcoming as Paxton's timeless folk-inspired songs filled the air (Fri., Sept. 24). The theater took safe and responsible precautions, checking vaccine cards and highly recommending masks.
Tom Paxton has collaborated in recent years with the talented country and folk duo, the DonJuans, featuring guitarist Don Henry and keyboardist/guitarist Jon Vezner. All three musicians appeared together on stage at Sellersville. The opening number was a traveling tune penned by Paxton, "I Can't Help But Wonder Where I'm Bound," originally on his first studio-recorded LP, Ramblin' Boy, in 1964. This album (which followed a previously released live debut LP in 1962) has become an essential folk music record of all original songs.
Tom Paxton has truly been a voice of progress throughout the decades. In 1970 he wrote and recorded the environmental anthem "Whose Garden Was This" for the very first Earth Day. Paxton shared this song with the audience, which contains lyrics warning of dire consequences if we don't preserve and respect Mother Nature:
Tell me again, I need to know.
The forests had trees, the meadows were green.
The oceans were blue, and birds really flew.
Can you swear that was true?
As much a social activist as a performer, Tom Paxton has always brought to light the struggles of common, hardworking folks in our society through his music. "If the Poor Don't Matter," a track from Paxton's 2015 CD Redemption Road, is a heart-wrenching song that really hits home. Paxton sang it in complete solidarity with everyday people struggling against poverty, evoking the conscience of his audience.
Paxton has never let dust settle on his setlist at a performance. Newer songs easily merge with longtime favorites. "Winter Cowboy," a reflective song he recently co-wrote with Don Henry and Jon Vezner, was followed up with a couple of fan favorites. "And If It's Not True" is a charming song about daydreaming of experiencing the world and all its wonderment—from Barcelona to Paris to the Metropolitan Museum of Art. This is a delightful audience participation song, and everyone joined in on the chorus, "And if it's not true, what harm can it do? I know what I know, I go where I go." "Bottle of Wine" is another of Paxton's signature songs in which the audience happily sings along. Paxton jokingly added that although the French have claimed it as one of their own folk songs, it was actually written by him (featured on his 1965 album Ain't That News!). Paxton had some fun singing a few lines of the song in French, playfully encouraging the crowd to join in.
Starting off his second set, Paxton reminisced back to the early Sixties and seeing Mississippi John Hurt, one of his blues and folk music heroes, perform live. "Did You Hear John Hurt?" paints a musical picture of the Mississippi musician singing country blues and playing guitar at the Gaslight Cafe in Greenwich Village, New York City. This was followed by "Eleanor's Song," a sweeping tale of a free-spirited woman and the first song Tom Paxton wrote in collaboration with the DonJuans.
The musicians on stage took time to honor all of the first responders and frontline workers during this time of pandemic. Tom Paxton sincerely thanked these brave, dedicated folks as he introduced his next song, "You Go On," a tribute to these workers, co-written by Jon Vezner. The lyrics of this song say it all:
You're lucky if you get to sleep two hours out of ten,
and when you finally drift in deep, it's time to do it all again.
Bleary-eyed, teary-eyed from workin' dusk till dawn,
but you go on.
Tom Paxton was an important part of the popular folk music resurgence in the early Sixties. The performer paid heartfelt tribute to the singers who inspired him, including The Weavers, Pete Seeger, and Woody Guthrie. "Here Today, Gone Tomorrow" is a new song written by Paxton and Vezner which honors these legendary musicians, including the evocative lines:
Sittin' here beside me are the ghosts of Greenwich Village.
Seeger singin' tenor, Lee Hays hummin' bass.
The rebel voice of Woody, Woody Guthrie in my ear.
Tom Paxton concluded the wonderful evening of music and storytelling by performing fine renditions of two of his most popular songs, both from his Ramblin' Boy album. "The Last Thing on My Mind" is a poignant and emotional love song of regret. "Ramblin' Boy" is the story of two traveling companions living life on the road. Paxton dedicated the latter song to Pete Seeger, who took a liking to it early on and performed it at a reunion concert with The Weavers at Carnegie Hall in 1963. Paxton and the DonJuans encored with an enchanting musical lullaby, "Dream On Sweet Dreamer." This was only Paxton's third in-person concert appearance since the initial lockdowns. A return to live performance, albeit with proper precautions, was welcomed by all in attendance.
A few years ago, Tom Paxton was seriously contemplating retirement. Around that time, Paxton was invited by Jon Vezner to play at a benefit show in Minnesota. This led to a number of songwriting collaborations, and now Paxton is back on the road performing live with the DonJuans. Their new CD Tom Paxton & The DonJuans Live! is a fine recording of their music and camaraderie as experienced in concert. As he returns to touring, the progressive causes Tom Paxton stands up for still have a wise and talented voice singing out for our collective inspiration.