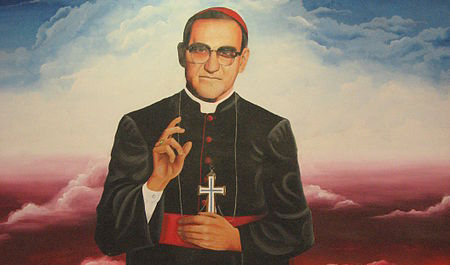 Saturday, May 23 is the planned beatification day for El Salvador's Archbishop Oscar Romero, outspoken advocate for the poor and repressed who was martyred in 1980 while celebrating Mass.
For many years, Oscar Arnulfo Romero y Galdámez has been proclaimed a saint by the people of El Salvador, and recognized as such throughout the world. If anything, the Vatican arrived late in its decision to beatify him, which is no surprise. It comes at a time of change in the Catholic Church in need of repair to its battered image after a flood of revelations about bad priests.
In February of 1977 a new archbishop assumed leadership over the archdiocese of San Salvador, the most important in this diminutive country. Some felt pleased that a conservative had taken the position, but at the grassroots level of the archdiocese, priests on the ground were unhappy, considering Romero not the ideal person to lead the congregation during a time of convulsive social activism. An epic, historic period of societal confrontation lasted throughout the whole Salvadoran civil war, from 1980 to 1992.
Romero's well known penchant for prayer, study and reflection did not sit comfortably with many other priests who were influenced by texts from the Medellín Conference and liberation theology that were popular then. They, by contrast, embraced an evangelism more committed to social justice and the poor.
Among those priests who dedicated themselves to living their faith as Jesus preached was Rutilio Grande, who was organizing farm workers in the town of El Paisnal in the parish of Aguilares. Rutilio was assassinated on March 12, 1977 – not even a month after Romero was appointed archbishop – on the road between Aguilares and El Paisnal, not far from San Salvador. He was riding in a car with a child and an old man when their vehicle was machine gunned. Father Grande was a close friend of Romero from their seminary days, who especially moved Romero with his socially conscious preaching. His killing, clearly at the hands of the landowners, changed Romero's life.
Romero ran into bureaucratic brick walls when he started to investigate Rutilio's murder. Three years later, on March 24, 1980, Romero himself was martyred as he was officiating Mass at a small chapel located in a cancer hospital called "La Divina Providencia" (Divine Providence). It was one day after a sermon in which he had called on Salvadoran soldiers, as Christians, to obey God's higher order and to stop carrying out the government's repression and violations of basic human rights. As he was concluding the Mass, Romero proceeded to the middle of the altar and at that moment was shot by a sniper who fired into his chest just as he was raising his hands carrying the host, signifying the body of Christ.
The deaths of these two priests, Oscar Romero as much as Rutilio Grande, were tragic events of transcendent significance, barbarous acts that revealed the ferocity of the reactionary right wing.
With Oscar Romero's beatification on May 23rd, justice comes slowly but surely. Untold millions of people all over the world know about Romero from the numberless statues and paintings, documentary films, poems and songs dedicated to this humble pastor who followed the call of Jesus. He has become the prophetic voice of the voiceless, a saint for the world made in El Salvador. Some like to call him "San Romero de América."
To speak of Oscar Romero is implicitly to recall Rutilio Grande, who by his example worked the miracle of Monsignor Romero's "conversion." It is also clearly a time to remember the Jesuit priests and the Maryknoll nuns, and all the other religious believers murdered in the struggle for a free El Salvador. Some predict that after Romero, Rutilio Grande will be the next Salvadoran saint.
We can only celebrate Pope Francis's decision, which calls us – whether we are Christians or adherents of other faith traditions or none – to follow the example of Romero in acting on behalf of the poor, following the word of Jesus Christ. Jesus said it is easier for a camel to pass through the eye of a needle than for the rich to enter heaven. And that is the gospel truth!
Que viva Romero! Que viva Rutilio! Long live all those who commit themselves to social justice!
Eric A. Gordon translated and contributed to this article.
Photo: Wikipedia (CC)