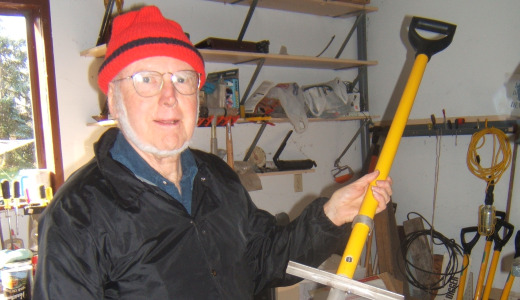 SEQUIM, Wash. – Clint Jones, 82, has won fame here with his "Clint's Dandy Digger," a simple tool for digging up weeds, rocks, and roots in well-tended gardens across the nation.
Jones is a man of many passions: his inventions, his operatic singing, astronomy (he has written a book about the Moon's origin), his needlepoint art that decorates his home, and most passionate of all, his belief that the Electoral College is unjust and should be abolished in favor of direct, popular election of the president.
Rave reviews of his digging tool have appeared in the Detroit News, the San Jose Mercury News, and ABC News. The Wall Street Journal listed "Clint's Dandy Digger" in a garden column. Joel M. Lerner, in the Washington Post's "Green Scene" column, wrote that "Clint's Dandy Digger is phenomenally versatile."
David Christian of Port Angeles, Wash., wrote in the Peninsula Daily News, "The Dandy Digger has helped me uproot 20,694 dandelions over the past five years."
Jones failed to persuade corporate toolmakers to manufacture the Dandy Digger. So he makes them in his shop. A neighbor down the road does all the welding for the incredibly strong stainless steel implement. Over the past 10 years he has sold 4,000 of them. His digging tool can be purchased online at www.clintsdandydigger.com.
Or you can drive to his modest home just north of town to buy it from him in person, with the advantage that he might treat you to an Italian aria sung in his pure tenor voice.
"I know a lot of Neapolitan songs," he told my wife, Joyce, and me, on a recent visit. He broke into "Funiculi, Funicula." Then he sang, "Una Furtiva Lagrima" (A Furtive Tear) from Donizetti's "Elixir of Love." For six years in his youth, back in the 1950s, he trained in Naples, Italy, as an opera singer, he said. When he returned to the U.S., in 1963 he sang in a quartet at Radio City Music Hall. "We did four shows a day, seven days a week," he said "What was exciting was to hear 5,000 people applauding us, all at once." He and his wife moved to Sequim 16 years ago.
Jones shows up at many public meetings here to speak out for abolition of the Electoral College system of electing the president. At a recent meeting of the Green Party in Port Angeles, Jones handed out a fact-sheet showing how the Electoral College diminishes the value of votes in high-population states while inflating the value of a vote in low-population states. A vote cast in Wyoming, for example, is worth 2.87, as if that voter got to cast nearly three votes, compared to the value of a vote in Florida: 0.78, less than one.
"Since 1824, there have been 47 elections in which 18 (38.3 percent) were stolen from the majority. That is, 18 presidents did not receive a plurality of the total votes cast by the citizens … plus three overturned the count by receiving fewer votes than the opponents." (Certainly one of those was George W. Bush who stole the 2000 election).
"We are so accustomed to thinking about electoral votes, as against the true value of our votes, that we never question the validity of an antiquated and gerrymandered method of voting," he said.
Asked how his campaign to abolish the Electoral College is progressing, Jones sighed. "I'm not getting very far," he said. "Some find the subject distasteful. But it's a question of fairness, of one person, one vote."
Photo: PW/Tim Wheeler