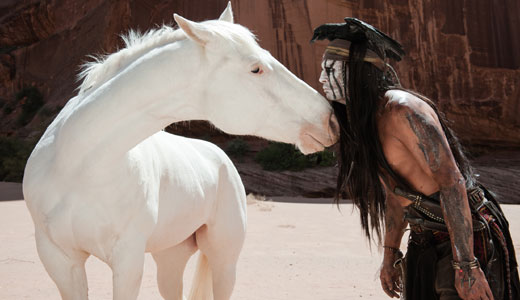 The term "sequelitis" was coined and used extensively throughout 2013, and a quick look at the box office tells us why. Out of the ten highest-grossing movies this year, seven of them were either sequels, remakes, or reboots. While some of them were actually good, many of them weren't. Here are ten films that make a compelling case for why Hollywood has come down not only with severe sequelitis, but remake-itis as well. And here's hoping 2014 will offer a little more originality on the big screen.
10. Evil Dead
This remake of 1981 cult classic horror film The Evil Dead attempts to modernize the original plot. In this one, some teens staying at a cabin encounter some unexpected demonic mayhem after reading a book of black magic. It seems like this film tried very hard to live up to the original, but it's too wacky to be taken seriously, and not wacky enough to pass for dark humor. It does have some fun visuals and gruesome monster makeup, but it's ultimately a waste of time and money. Unfortunately, it's rather like the bowl of spiked punch at a party – colorful and pleasing to the palate, but you'll regret it afterward.
9. Star Trek Into Darkness
I almost didn't want to put this one on the list because of its stellar lead actors. But this sequel to 2009's Star Trek is essentially a dumbed down, half-hearted redux of a 1982 Star Trek film. Moreover, what Gene Roddenberry's original series offered in story and sociopolitical commentary, this J.J. Abrams-directed movie turns into CGI, lens flares, and space terrorism; hardly the future that Roddenberry envisioned when he first conceived Star Trek.
8. The Lone Ranger
Johnny Depp, a fantastic actor, has lately made the mistake of getting involved with Tim Burton and Disney over and over again for over-the-top fantasy movies. While these collaborations have produced many fun films, the formula has gotten old, and one might wonder how much creativity might be gleaned from any further alliances of the sort. This time, Depp stars in another Disney film, a remake of the original 1950s Lone Ranger television series. This one doesn't add much to the original show's legacy, nor does it succeed in resurrecting the long-dead-and-buried Western film genre.
7. Machete Kills
This was the sequel to 2010's Machete – an enjoyable pro-immigration film starring Danny Trejo that audiences could really get on board with. It made some daring statements about the exploitation of undocumented workers and the twisted U.S. immigration system. Machete Kills initially seems promising, but its prior commentary is lost this time around, replaced with cringe-worthy attempts at one-upping the original in the shock and comic violence departments. Casting Charlie Sheen as the President of the United States doesn't help it much, and at this point, it's safe to say that Machete has jumped the shark. Oh well. At least we can look forward to the promised threequel, Machete Kills Again.
6. Carrie
I really wanted to like this film, even though it was a remake of a 1976 horror film that wasn't my cup of tea – itself an adaptation of a 1974 novel by Stephen King – which, by the way, also wasn't my cup of tea. Things got interesting when they cast the talented Chloe Moretz in the role of Carrie, with Julianne Moore as her religious fanatic mother. But it ends up feeling emotionally empty – the climax doesn't feel earned, and it feels as though the actors are just going through the motions. It also begs the question – why remake this film – again – in the first place?
5. A Good Day to Die Hard
The fourth film in the Die Hard series, 2007's Live Free or Die Hard, was an excellent adrenaline rush of a film that offered surprising commentary on cyber-terrorism, added some great supporting actors into the mix, and had some phenomenally funny moments. So you could imagine my excitement when the fifth installment debuted this year. I quickly learned, however, that no day is a good day to see this film. A Good Day to Die Hard bullishly plods along with its stripped-down story, anemic dialogue, and increasingly over-the-top action sequences. Worst of all, it lacks the political subtext and characterizations that made the original film so great.
4. Texas Chainsaw 3D
A quasi-sequel to the original 1974 film The Texas Chain Saw Massacre, the story focuses on a young woman traveling to Texas with her friends to collect an inheritance from her grandmother. She soon learns, to her horror, that the inheritance includes her chainsaw-wielding cousin, Leatherface. This is easily one of the most pointless, redundant sequels/remakes/whatevers of 2013. It brings nothing new to the table, and we've seen it all before. Even worse, it fails to build on the 2003 remake and its sequel, which were actually great, twisted movies with good acting.
3. G.I. Joe: Retaliation
This yawn-inspiring, possibly brain cell-reducing sequel to 2009's G.I. Joe: The Rise of Cobra feels like retaliation against the audience for paying to see the first one. An utter waste of 118 precious minutes of life you'll never get back. Why good actors like Bruce Willis and Ray Park bothered with this film is beyond me. It should go without saying that this one is best avoided – it is, after all, based on a toy franchise. If you absolutely must, however, look for it in the 99 cents bin at your local big-box retailer.
2. The Hangover Part III
More tragedy than comedy, this threequel continues the misadventures of its knucklehead main characters. One wishes what happened in Vegas really would stay in Vegas, but this one picks up some plot elements from the original film, making it feel not only like a bad movie, but a derivative one to boot. The final film – and mercifully so – in a series that was already past its expiration date.
1. Red 2
Further proving that 2013 was just a bad year for Bruce Willis, this movie, which also stars John Malkovich, Helen Mirren, and Anthony Hopkins, is a sequel to an already-awful movie, 2010's Red. The original film took the potentially great concept of old, washed up CIA agents past their prime being forced to "get back in the game" – and proceeded to ruin it entirely. The sequel beats the dead horse further, and throws in some more cookie-cutter action sequences. It's a shame, because the lead cast could have been wildly entertaining with the right direction and writing. Instead, it was easily the worst sequel this year.
Photo: The Lone Ranger official Disney website.