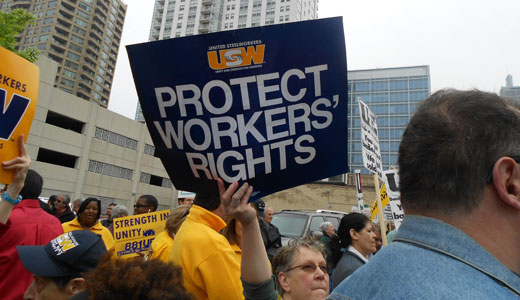 WASHINGTON – A top anti-union lobby, the Associated Builders and Contractors, proclaims itself as the national voice of non-union construction companies. However, it actually represents just a small share of U.S. contractors, a new study shows.
And that study, by National Labor College political scientist Thomas Kriger, reveals some ABC members aren't even contractors. They include a florist in Jacksonville, restaurants in Texas and Oklahoma, 44 Chevy dealerships, and 59 banks.
"ABC is an 'Astro-Turf' Washington Beltway political advocacy group with a well-funded PR and lobbying machine," Kriger said during a presentation Apr. 30 during the AFL-CIO Building and Construction Trades legislative conference.
ABC is notorious for its anti-union stances. It vigorously lobbies to kill the Davis-Bacon Act, which mandates the Labor Department set locally prevailing wages for federally funded constructions. And ABC strenuously opposes project labor agreements. PLAs set standards – like grievance procedures and work rules – for projects.
The 23,000-firm ABC garnered headlines just over a month ago when GOP presidential hopeful Mitt Romney, now his party's presumed nominee for the Oval Office, got its endorsement after a speech blasting PLAs and unions.
Kriger concluded ABC is a "shell" organization that does little of its own research, instead sending right-wing talking points to its members. Among his other findings:
ABC's membership equals 0.03 percent of all construction contractors. Its maximum density in any state is six percent. In 46 percent of the states, it has fewer than one percent of contractors.
The non-partisan Construction Users Roundtable reported joint labor-management apprenticeship training committees, with union participation, turned out 351,000 apprentices from 2002-09, in an industry that is hitting an age crunch. ABC's programs turned out 19,000 apprentices over the same period. The roundtable's members recommended contractors hire jointly union-management trained apprentices.
ABC's membership includes 673 insurance brokers, the 44 car dealers and the 59 banks. It also includes a party rental firm, the Florida florist and the restaurants.
"ABC's low-road strategy for labor relations and employment has had a detrimental impact on the construction industry and on our society as a whole," as lawmakers have catered to its lobbyists, the study says. "In the industry today, there are too many low-skill, low-wage jobs, where working men and women receive minimal training. ABC's aggressive advocacy of the low road contributed to growing inequality."
Photo: Blake Deppe/PW/Flickr