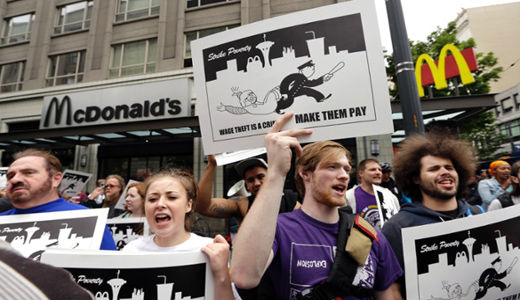 WASHINGTON (PAI) – Faced with continuing company intransigence and labor law-breaking, the National Labor Relations Board's general counsel, its top enforcement officer, filed formal charges against McDonald's and its franchises in 13 cases nationwide. If board-sponsored negotiations don't solve the cases by Mar. 30, the NLRB will open trials against McDonald's in Manhattan, Chicago and Los Angeles, general counsel Richard Griffin said.
The NLRB's announcement is significant for two reasons: McDonald's is one of the nation's largest low-wage employers, and its workers have been in the vanguard of the national movement for decent wages for fast food workers, Walmart workers, port truck drivers, taxi drivers, and other exploited low-wage workers.
Griffin's announcement carries out a policy, unveiled in mid-2014, of considering franchise-granting chains as joint employers with their local franchise-holders under labor law. That means both the chain and its local franchise are liable when labor law is broken.
Griffin's announcement then, which said that McDonald's was the first target, was expected to spur wage increases and other pro-worker changes across the board at the fast food giant, known for its low wages and worker exploitation.
Instead, Griffin said on Dec. 19, McDonald's continued to break labor law, by – among other violations – retaliating against workers who took part in protests demanding a living wage of $15 hourly, more regular hours and the unimpeded right to organize.
Griffin's announcement also spurred screams from congressional Republicans. Sen. Richard Burr, R-N.C., a Senate Labor Committee member, said last year that when the GOP takes control this month, he would introduce legislation to ban NLRB moves against franchisor corporations such as McDonald's.
The threat doesn't faze Griffin. "McDonald's USA, LLC and certain franchisees violated the rights of employees working at McDonald's restaurants at various locations around the country by, among other things, making statements and taking actions against them for engaging in activities aimed at improving their wages and working conditions, including participating in nationwide fast food worker protests about their terms and conditions of employment during the past two years," his office said.
The NLRB received 291 labor law-breaking claims against McDonald's and its franchise-holders in the last two years, it added. It found 86 have merit and it tried to settle them, but "those efforts have largely been unsuccessful," it added. So it consolidated them into the 13 nationwide complaints.
"Meritorious allegations of unlawful conduct committed by McDonald's franchisees and/or their franchisor, McDonald's USA, LLC, occurring in more than one, and often multiple, locations around the country include: Discriminatory discipline, reductions in hours, discharges, and other coercive conduct directed at employees in response to union and protected concerted activity, including threats, surveillance, interrogations, promises of benefit, and overbroad restrictions on communicating with union representatives or with other employees about unions and the employees' terms and conditions of employment."
Besides the planned initial trials before NLRB administrative law judges in Manhattan, Chicago and Los Angeles, the NLRB also found "joint employer" violations by McDonald's and its franchise-holders at eateries covered by the agency's regional offices in St. Louis, Kansas City, New Orleans, the Twin Cities, Philadelphia, Detroit, Atlanta, San Francisco, Indianapolis, and Phoenix. Trials in those cities will begin after the first three trials.
Photo: Elaine Thompson/AP