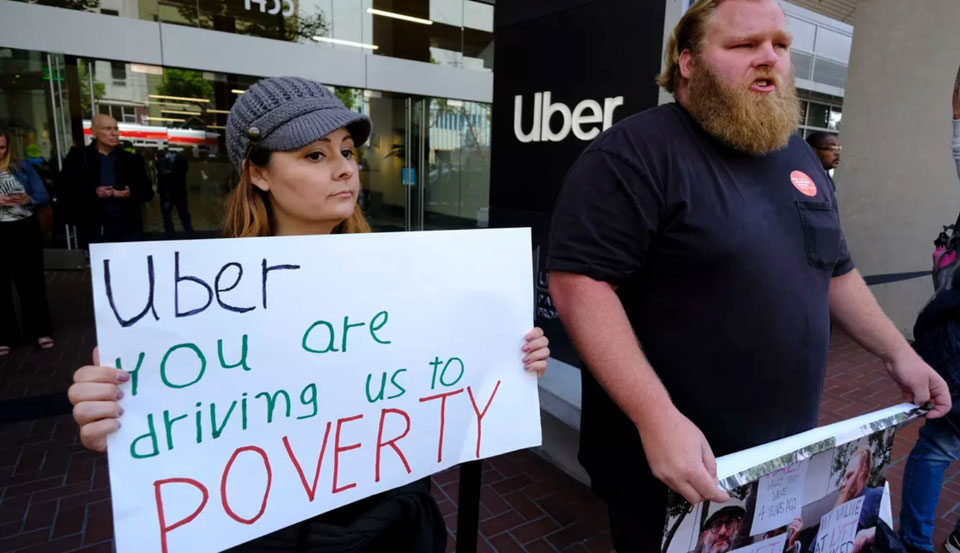 WASHINGTON —Following the anti-worker lead of rulings by the GOP Trump-named National Labor Relations Board majority, key board staffers dealt two more blows to workers' rights since the start of May.
One cuts down on money unions can use for lobbying and the other deprives Uber drivers nationwide of the right to organize to protect themselves against their bosses' depredations, by declaring the drivers "independent contractors" barred from unionizing.
Making the drivers contractors also saves Uber millions of dollars in payroll taxes, jobless benefits and workers' comp. And it forces drivers to pay for the taxes, along with their cars, tires, gas, insurance, and repairs.
The anti-lobbying ruling is in a memo from NLRB General Counsel Peter Bobb. He said unions in non-right-to-work states cannot include lobbying expenses as activities they could charge to non-members under the U.S. Supreme Court's Beck decision.
That ruling decision, and a similar one covering government workers, says that in non-RTW states, unions must tell such non-members whom they by law must represent, about expenses those free riders must shoulder: Only collective bargaining, contract administration, and grievances.
Unions contend lobbying is part of their responsibilities under such Beck notices because lobbying helps preserve workers' rights, including the right to collectively bargain, both in the states and in federal labor law. That means they can charge the free riders, also known as agency fee-payers, for it.
Bobb, citing a March 2019 ruling by the Trump-named majority, declared it's not.
Bobb's declaration is important to unions, their finances, and their lobbying efforts. Federal figures show there are approximately 1.64 million "free riders" – and Bobb used that phrase in his memo – nationwide.
Free riders in RTW states don't have to pay one red cent for unions' protection of their jobs and their rights. Those in non-RTW states can pay full union dues or the bargaining-administration-grievance-only share Beck notices specify. "Free riders" can't vote in union meetings or elections.
But in a further twist of the Trump knife against workers' rights, Bobb, whom Trump named as the board's general counsel – also said that until now, if a "free rider" challenges the union's specification of Beck-covered expenses, the free rider must prove his or her case. Bobb reversed that burden of proof, putting it on the union.
The old burden of proof "creates an undue burden on the Beck objector," Bobb wrote.
"Greater scrutiny of union expenditures…without the objecting employee having to first identify and present evidence regarding questionable expenditures is warranted to protect employees' right to adjudicate their Beck claims," his memo adds.
The anti-worker Uber memo came from Jayme Sophir, associate general counsel in the NLRB's Division of Advice. That division now gets all major or potentially major cases before the board does, and acts as a "gatekeeper," deciding which ones get memos back downwards to regional offices and which ones head upwards for NLRB rulings.
Sophir declared the tens of thousands of Uber drivers nationwide – who just engaged in their own strike by turning off their apps and refusing to pick up riders – "independent contractors."
That lets the ride-sharing firm, whose bosses make millions off the drivers, and who just reaped in billions from Uber's first public stock offering, deny the drivers the right to organize to protect themselves.
That includes organizing publicly, by unionizing, to demand Uber stop cutting their pay. The cuts led to the drivers' recent app protest/strike.
And Sophir used a January 2019 ruling by the Trump-named GOP NLRB board majority as a precedent – in a case involving Super Shuttle drivers at Dallas-Fort Worth Airport.
The key issue in determining whether Uber drivers are "employees" labor law covers – who have the right to organize, in unions or otherwise – or "independent contractors" is if the company's control of their work is greater than the drivers' own entrepreneurial opportunities, Sophir wrote. How much of each fare the company keeps also factors into the decision, he added. That's on top of other factors the NLRB uses to determine whether any worker is an independent contractor.
The Dallas-Fort Worth Airport Super Shuttle drivers "had total control over their work schedules," kept all the fares they collected "and had discretion over which trips to perform," he explained. So they're independent contractors, he decided.
The Uber drivers, Sophir said, have "near-complete control of their cars and work schedules" and could even go to work for Uber's competitors – such as taxis and Lyft, though he didn't name them – at the same time.
"These and other facts strongly support independent contractor status and outweigh all other facts supporting employee status," Sophir said.