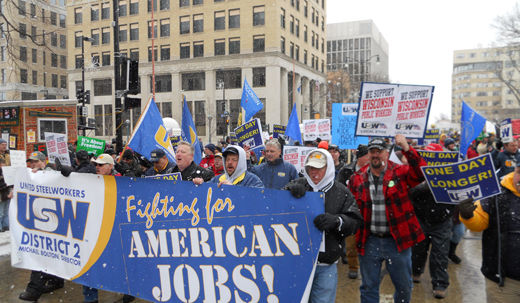 Leo Gerard, president of the United Steelworkers, said the election this November is the most important one in 80 years.
In a speech in Homestead, Pa. July 14, he declared that corporate money in politics threatens to overwhelm the voice of labor unions and that only a massive outpouring of union members for the election will force lawmakers to address campaign financing.
Spending in the 2012 presidential race by outside corporate groups is expected to be in the billions of dollars pushing the total amount spent during the 2012 presidential race close to the $10 billion figure, according to many estimates.
"In 10 years, without a change in campaign finance," Gerard declared, "we will lose the right to bargain collectively.
"And without strong unions," he added, "the gap between the rich and everyone else will only widen."
He urged union members to come out in force to support President Obama and other pro-worker candidates and then, when elected, demand they take up the politics important to working families and their unions.
"We dropped the ball last time," Gerard said, referring to the President's first term. "When he wins, we have to make sure the people around him move forward on our issues."
Gerard spoke to a crowd in the building that was the pump house for the Homestead Steel Works where an historic strike took place in 1892. His speech was sponsored by the Battle of Homestead Foundation that commemorates the event annually.
Gerard credited unions with the rising prosperity that marked the mid twentieth century and equated declining prosperity for the majority of Americans with the decline of the labor movement.
"America and unions experienced rising prosperity in the years from the end of World War II until the early 1980's," Gerard said. "But since then, union membership has declined and more of the wealth generated from American industry has flowed to the top of the economic ladder. At this point in our economic history, at this point in the evolution of America, and at this point in global economic history, the gap between the rich and poor is the greatest it has ever been," he said.
Government figures back up Gerard's claims.
Union members made up 20 percent of the work force in 1983 but were only 11.8 percent of workers were in unions in 2011, according to the Bureau of Labor Statistics.
The Census Bureau says that the top five percent saw their inflation-adjusted median income grow by 45 percent between 1985 and 2010 to $287,000. During the same period, people in the bottom 40 percent of earners saw their median income rise 3 percent to $19,835.
Some in the audience expressed concern about labor's ability, in the face of such difficult odds, to survive in America.
"I can't guarantee that we'll win every fight," Gerard said. "But I guarantee that if we don't fight, we'll lose."
Photo:Steelworkers show solidarity with Wisconsin public workers at rally in Madison, Wisc. USW Facebook page