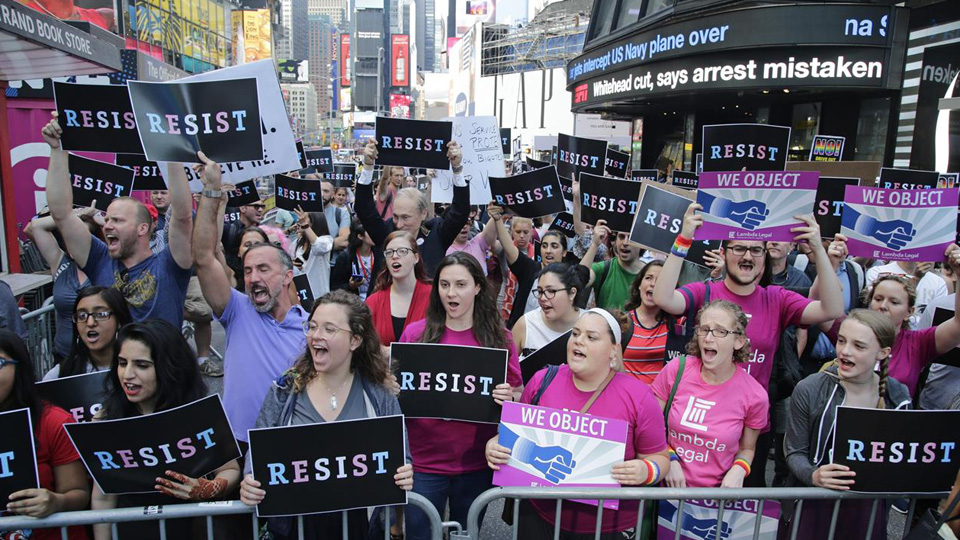 WASHINGTON – Top LGBTQ organizations blasted the attacks on their community launched by GOP President Donald Trump yesterday. Leading off the day yesterday were Trump's early-morning tweets banning trans people from military service – and reversing an Obama administration policy letting them openly serve. Following it was the Trump Justice Department's filing of a legal brief declaring anti-discrimination laws do not apply to LGBTQ people.
Jerame Davis, Executive Director of Pride@Work, the AFL-CIO's constituency group for LGBTQ people, was the most succinct. He called Trump's anti-trans tweets "bigotry masquerading as military strategy."
And Retired Lieut. Col. Steve Loomis, leader of another group, the Albuquerque-based American Veterans for Equal Rights, wrote to Trump's Defense Secretary, retired Gen. James Mattis, urging him to move ahead with President Barack Obama's policy – in so many words, to defy Trump.
"Your strong and highly demonstrated leadership will allow smooth and successful implementation" of integrating transgender people fully into the military, Loomis wrote Mattis.
Trump set off the uproar with early-morning tweets on July 26 declaring he would ban all transgender people from the armed services. Estimates of the number of transgender military personnel range up to 15,500, with one group calculating that one of every five transgender people in the U.S. is in the military.
That doesn't matter to Trump. It does to the groups.
Human Rights Campaign president Chad Griffin called Trump's reinstated ban on transgender military people "dangerous and reprehensible" and "heinous and disgusting." Trump's tweets show he's "as unpatriotic as he is unfit to serve as Commander in Chief" by "putting a target on the backs of" transgender service members while undermining readiness, Griffin added.
He also saw a political motive in Trump's tweets. They're "the latest effort by Trump and (Vice President) Mike Pence to undo our progress and drag LGBTQ people back into the closet by using our lives as political pawns." And Griffin quoted White House officials as saying Trump's tweets play to his base and put Democratic senators in swing states on the political spot next year.
Davis – who hails from Indiana, where Pence, as governor, pushed anti-LGBTQ policies – spoke for both his group and the Union Veterans Council when he called Trump's tweets "an insult to our troops, the LGBTQ community and our nation's founding principles.
"Make no mistake, transgender Americans have served our country for decades and they've done so largely in the shadows. They have fought and died for our freedoms while their country has refused to recognize them for who they are. And they deserve better from our commander-in-chief," Davis concluded.
Transgender Law Center executive director Kris Hayashi called Trump's tweets "highly inaccurate and offensive statements about transgender people, citing the 'disruption' our existence creates to try to set military policy," and said the center would keep mobilizing on the streets and in the courts to fight for transgender people and remove the smokescreen Trump is throwing up by such tweets. The tweets disguise Trump's attacks on healthcare, Muslims, women, and other minorities, Hayashi said.
But even as "Trump's tweets seek to perpetuate the most explicit discriminatory federal policy against trans people," as the National LGBTQ Task Force put it, other branches of the federal government have gone the other way, backing transgender people's rights, including the right to serve in the military.
Two weeks ago, 24 Republicans defied their party's anti-LGBTQ prejudices and joined all 190 House Democrats to sink an anti-trans amendment to the defense bill. It lost 214-209 after speeches against it by House Minority Leader Nancy Pelosi, D-Ca., and Rep. Adam Smith, D-Wa., the respected ranking Democrat on the House Armed Services Committee. Before that, the 7th U.S. Circuit Court of Appeals in Chicago ruled for transgender people's rights, becoming the highest court to do so.
"Integration of openly transgender service members into our Armed Forces is the unfinished work of the bipartisan…efforts to repeal the discriminatory Don't Ask, Don't Tell policy," Pelosi said. She called the anti-trans amendment, by Rep. Vicki Hartzler, R-Mo., "cruel, discriminatory, and appalling."
On May 30, 7th Circuit Appellate Judge Ann Williams, speaking for a three-judge panel, upheld the right of transgender teenager Ashton Whitaker to use the boys' restroom at his Kenosha, Wi., high school. He was using the boys' room until a teacher reported him to higher authorities. Lower courts sided with Whitaker, and so did Williams and her judicial colleagues.
Williams called the harms to the school district and other students and their parents from Whitaker's use of the boys' room "speculative and based on conjecture." But the harms to Whitaker are "well-documented and supported by the record," she added.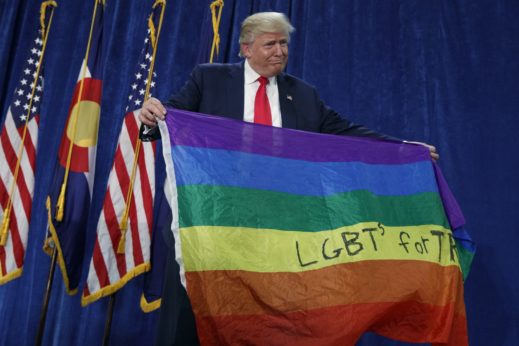 On July 26, openly gay lawmakers added their denunciations of Trump's tweets.
"Military service should be about defending freedoms, not a mechanism to deny them. Transgender Americans should be able to serve our nation based on their merits and abilities," said Rep. Jared Polis, D-Co., founder of the Congressional LGBT Equality Caucus, said after Trump's tweets. "In a dangerous world, we can't afford to weaken our military by kicking out high performing service members just because of their gender identity."
"I stand with military leaders who support moving in the right direction. A ban against any patriotic American who wants to serve our country is wrong," tweeted Sen. Tammy Baldwin, D-Wi., who is lesbian.
Late in the day, the Justice Department filed an unsolicited brief in a private employment case urging the 2nd Circuit of the U.S. Court of Appeals to rule that civil rights law, specifically Title VII of the 1964 Civil Rights Act, does not prohibit job discrimination based on sexual orientation.
It capped a day of anti-LGBTQ attacks by the Trump administration. Under Obama, the Justice Department and the Equal Employment Opportunity Commission interpreted Title VII to also include sexual orientation.
"Attacks against the LGBTQ community at all levels of government continue to pour in from the Trump-Pence administration," Sarah Warbelow, Legal Director for HRC, said last night. "In one fell swoop, Trump's DOJ has provided a roadmap for dismantling years of federal protections and declared that lesbian, gay, and bisexual people may no longer be protected by landmark civil rights laws."
"Today's filing," Warbelow said, "is a shameful retrenchment of an outmoded interpretation that forfeits faithful interpretation of current law to achieve a politically driven and legally specious result."