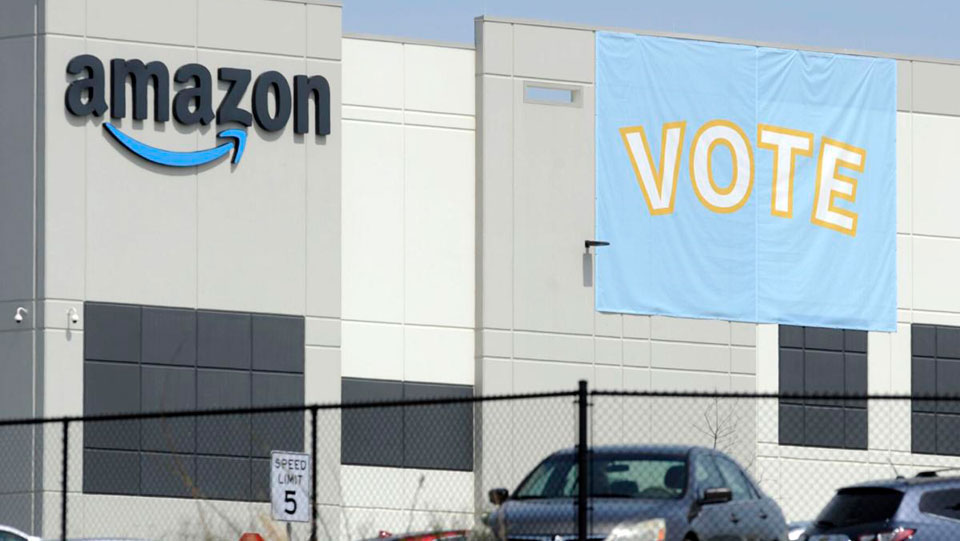 BESSEMER, Ala.—Citing seven counts of Amazon labor law-breaking, mostly involving a giant mailbox for ballots set up before the front door of the firm's Bessemer, Ala., warehouse, a top National Labor Relations Board official has ordered a rerun unionization election vote there.
The Nov. 29 decision by the agency's regional director for Georgia, Northern Alabama, and other sections of the Southeast,  Lisa Henderson, means the Retail, Wholesale and Department Store Union, a semi-independent UFCW sector, will get a second crack at unionizing the almost 6,000 workers there. Henderson set no date for the vote.
Amazon has 10 business days, until Dec. 13, to appeal Henderson's ruling to the full NLRB. If the board says "no," before the election date, the vote goes ahead. If the board—now with a 3-2 Democratic majority—says "yes," it's overturned her decision and there's no rerun. And if it takes Amazon's request by Dec. 13 but doesn't rule before the vote, the ballots are impounded until it does.
"Today's decision confirms what we were saying all along: That Amazon's intimidation and interference prevented workers from having a fair say in whether they wanted a union in their workplace. And as the regional director has indicated, that is both unacceptable and illegal. Amazon workers deserve to have a voice at work, which can only come from a union," RWDSU President Stuart Appelbaum said in a statement.
The rerun, like RWDSU's campaign to unionize Bessemer, is important to workers nationally for several reasons. One is to continue organized labor's campaign to break through in the worker-hostile South. There, bosses often pit workers, along lines of race and nationality, against one another. Many local and national politicians, in this case as in other unionization drives, jumped into the fight on the side of the bosses.
The re-run is also important to show unorganized workers, such as those at Amazon, the nation's so-far second-largest private employer, the benefits and protections of organizing themselves. Amazon, whose U.S. workers are not unionized, pays wages far below industry standards unless forced into higher pay through state minimum wage laws.
That message, seconded by notable national figures up to and including President  Biden, is designed to get through to the 93% of private sector workers who are now unorganized—half of whom want to vote on unionizing without employer interference and intimidation, opinion polls show.
And the third issue of importance in the campaign is to show workers can successfully stand up to corporate greed and rampant repression from Amazon owner Jeff Bezos, one of the three richest people in the U.S., and similar capitalist moguls.
The main reason Henderson ordered the rerun was Amazon's labor law-breaking surrounding the placement of a controversial mailbox right in front of the main entrance to the Bessemer warehouse, under a big tent emblazoned with the Amazon logo, and its anti-union "Speak for yourself!" slogan printed on one side wall.
Events and actions surrounding the mailbox accounted for six of the seven labor law-breaking counts Henderson cited in her ruling that Amazon illegally skewed the vote.
That drive, by Amazon founder, chief stockholder Bezos, featured spending $11 million a day on a notorious union-buster. Its minions and Amazon HR officials observed workers at some 240 company-called "captive audience" meetings, noting which workers picked up "Vote No" paraphernalia on their way out.
Intimidation and surveillance also involved
That intimidation and surveillance accounted for the other labor law-breaking (formally called unfair labor practices) charge. Together, all the firm's illegal actions produced a two-to-one vote against RWDSU in balloting with just over a 33% turnout.
Henderson, agreeing with both the union's filing for labor law-breaking and a prior decision by the board's hearing officer in Birmingham, Ala., said the events, placement, and company spying swirling around the big gray mailbox accounted for most of the labor law-breaking.
That included a company camera over the warehouse front door, trained on the mailbox and recording who voted—and who didn't. It also included observation of the balloting by both company HR officials and the union-busters.
Amazon argued it put the mailbox where it did to encourage a higher turnout, but Henderson said "that is specious." She noted Amazon formally asked USPS to install the mailbox but only for the days during the election campaign, and that Amazon offered three sites for it. USPS picked one. Henderson did not discuss why USPS yielded to Amazon's mailbox demand. She noted there were 49 post offices within 20 miles of the plant, plus regular blue mailboxes on numerous corners.
Security cameras by themselves are legal, Henderson noted. But that, the impression of illegal surveillance—since there are security cameras all over the warehouse, which is the size of several football fields—and the "vote no" campaign all combined to break labor law, too.
Putting the mailbox where Amazon wanted it also sent the message to the workers that Amazon, not the NLRB, controlled the election. That's another form of intimidation, Henderson said, especially since the NLRB's ruling setting terms for the vote early in 2020 specifically barred such a mailbox setup.
"This is not a question of whether it is objectionable to let employees cast their ballots at the employer's facility. Rather, the issue is whether the employer–by causing a postal mailbox to be installed at its facility during the critical period" for mail balloting due to the coronavirus pandemic, and "in full view of security cameras, with its slogan on a tent surrounding the mailbox–contravened the instructions… and, therefore, altered election procedures to give the appearance of irregular and improper employer involvement. The answer is a resounding yes," Henderson wrote.
"Employer-directed installation of the mailbox is inconsistent with the board's laboratory conditions and contravenes the instructions cautioning against perceived employer involvement in the neutral election proceedings."
Henderson wrote that eligible voters shall be workers employed at the warehouse in the runup to the rerun vote, and that may be a problem for RWDSU. Amazon jobs are so bad nationwide, and turnover is so high—150% yearly, according to the New York Times—that remaining union supporters among the workers, plus RWDSU organizers, may have to virtually start from scratch again. Amazon isn't waiting.
Bamazonunion.com, the workers' committee at Bessemer, tweeted that "In the Bessemer warehouse, Amazon has already restarted its anti-union propaganda and captive audience meetings full of misinformation. But we, the workers, are not giving up. Share if you think  #UnionBustingIsDisgusting! BAmazonUnion."
Meanwhile, another group of Amazon workers, at four warehouses in Staten Island, is challenging the behemoth before the NLRB region, there, too.
Connor Spence, co-leader of the Independent Labor Union—with his friend, Christian Smalls—are trying to organize Amazon workers on Staten Island. ILU filed an unfair labor practices complaint there on Nov. 24. "Amazon maintains an unlawful policy blocking union organizers' access, during non-work hours, to public areas in buildings on its Staten Island Campus," Spence tweeted.
Amazon illegally fired Smalls at the start of the coronavirus pandemic after he led a noontime walkout over safety conditions, or lack of them, from the firm's main warehouse on Staten Island. Smalls is also suing Amazon, personally, for defamation, after it trumped up charges that he failed to follow coronavirus physical distancing protocols.