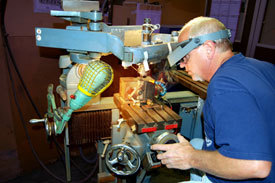 Along with crafting quality products, Machinists (IAM) members can take some pretty snappy photos, too. The union's annual photo contest is a chance for members to capture on film—or pixels—the wide range of work done by Machinists across the country.
In the photo "Pantographing," first place winner (photo with blue shirt) Jamy R. Kaiser from IAM Local 52 photographed co-worker Paul Cerra engraving a steel hand stamp at Pannier Corp. in Pittsburgh.
Josh Posvancz of IAM Local W98 took third place (photo with red shirt) for his photo "Face of Our Union" showing his union brother Mike Gamble preparing to work on a band saw at the California Redwood Co. in Korbel, Calif.
Winning photographs will be included in the 2009 IAM calendar. Also $2 from each calendar sold is donated to Guide Dogs of America, a group that trains dogs for the blind and visually impaired that the IAM helped found in 1948 and continues to strongly support.