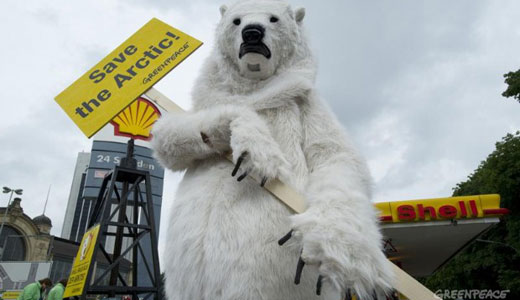 After numerous ecological disasters, right-wing attempts to denounce critical environmental issues, and the ever-looming threat of climate change, it's high time to look at the good points of the environmental struggle this year. Provided here, in order of increasing significance, are what I believe to be the most important environmental victories of 2012.
10. Reductions in carbon, mercury emissions
The Obama administration gave people one of the first environmental victories of 2012 when it passed a January EPA measure called the Mercury and Air Toxics Standards. The standards have curbed and set limits on carbon and mercury emissions, tightened regulations on coal-fired plants, and created new jobs in pollution control technology, meaning that labor activists can share in the environmentalists' elation.
9. Impressive year for environmental music
Environmentalism has crept into music frequently in recent times, but 2012 was a particularly exceptional year. Willie Nelson and his daughters worked with the Animal Welfare Institute to support the American Horse Slaughter Prevention Act. Canadian metal band The Agonist has defended animal rights, with their singer, Alissa White-Gluz, joining PETA in protesting seal killing. Kentucky metal/bluegrass band Panopticon released an album decrying mountaintop removal and the abuse of workers in the coal industry. And musicians including Billy Joel, Bruce Springsteen, the Rolling Stones, and The Who performed at a benefit show this month to raise money for victims of Hurricane Sandy. Music is becoming more pro-environment than ever, and that's a big win.
8. Meat companies end use of torturous crates
This win was a double-whammy for both environmentalists and animal rights advocates: meat company Hormel (the maker of SPAM) in February announced its plans to end the shameful practice of keeping its pigs in small, inhumane gestation crates, and urged other companies to follow in its footsteps.
7. LA, San Jose, Brookline ban plastic bags
Several towns across the U.S. have altogether banned plastic bags. These include Los Angeles and San Jose, California, and Brookline, Massachusetts. On the disappointing side of things, Toronto, Canada, lifted its plastic bag ban in November by a City Council vote of 38-7. The successful bans, however, are a clear demonstartion of society's increasing awareness of the harm being caused by plastics.
6. Demolition of toxic NJ building completed
After a chemical spill at the E.C. Electroplating plant in Garfield, New Jersey in 1983, the local ground and waters were tainted with cancer-causing chromium, threatening people for decades until the EPA took over, exposing the corruption and oversight of the state's Department of Environmental Protection. The building was finally demolished in late October – a major relief for Garfield residents. The EPA's next step for 2013 will be drilling relief wells and monitoring for possible air contamination; in short, things are moving forward.
5. Keystone XL pipeline construction in Texas halted
Following a lawsuit by a landowner charging that TransCanada had failed to define a difference between crude oil and tarsands oil, the company's Keystone XL pipeline construction has been halted in eastern Texas. A judge signed a two-week injunction, marking this as a reprieve – and cause for celebration – for the many local activists and landowners that have viciously protested the pipeline.
4. Big wind project approved for Wyoming
The Chokecherry and Sierra Madre Wind Project was approved in the state of Wyoming in October. The project is a wind farm that will generate as much as 3,000 megawatts of energy for the state, and is one of the most ambitious wind projects in recent history.
3. Obama re-elected for second term
As well as being a win for many other aspects of the progressive struggle, the re-election of President Obama was a major plus for environmentalists. After GOP opponent Romney had spoken of his intentions to "take a weed whacker" to federal environmental regulations, activists had plenty reason to worry. But alas, Obama has returned, and many hope he will continue to crack down on the coal industry, reduce carbon emissions, and challenge the controversial Keystone XL project.
2. BP admits guilt for Gulf spill, must pay over $4 billion
After causing one of the most horrific environmental disasters in recent history, British oil giant BP finally pleaded guilty to 14 criminal charges and agreed to pay $4.5 billion in penalties for the 2010 Deepwater Horizon oil spill. Though these penalties are but a mere slap on the wrist for BP, the victory is a major one for activists who were deeply and directly affected by the disaster.
1. Shell defeated, no Arctic drilling for 2012
The biggest victory of all came in September, when Shell announced it would put off offshore drilling in the sensitive Arctic ecosystem for another year, after a spill containment dome was damaged during a testing accident. The win came after aggressive protests from environmentalists including Greenpeace. Tampering in the Chukchi Sea, as Shell yearns to do, would be highly dangerous, and activists will continue to fight back against the oil company in 2013.
Photo: Greenpeace's Save the Arctic campaign was a success in 2012. Greenpeace.org