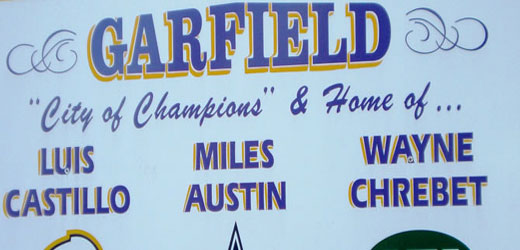 Part 2 of a 2-part story. Read the first part here.

Aftermath
While I was growing up as a teenager in Garfield, residents more directly affected by the chromium contamination were suffering. Resident Bernice Riccio believes the cancer-causing chemical is partially, if not entirely, to blame for the death of her husband, Michael, who frequently spent time in the basement. Whenever it rained hard, the floodwater coated the basement in chromium. Riccio died of leukemia in May 2008.
Though leukemia is not one of the conditions to which chromium is directly linked, experts have said not all of the chemical's health effects are yet known. Michael's widow believes it at least exacerbated his illness.
"Maybe he would have gotten [leukemia] without it," said Bernice, "but he was always down there, and it was always down there with him.
"It's always in the back of my mind – if they had cleaned it up, would my husband still have gotten sick?"
"I've seen people who have grown up here get sick and it scares the hell out of me," said Jennie Coulter, who now rents out her house on Grand Street. "If the DEP had followed protocol back in 1983, we wouldn't be in this mess.
"If they sent a letter that an industrial accident happened in the neighborhood, then fine. But they didn't. My parents didn't know about this. My aunt and uncle never talked about it. Nobody knew anything."
The chemical's presence hangs over the town like a dark cloud now, not only putting residents' health at risk, but pushing businesses away as well. Some meter readers with PSE&G have refused to go into basements, for example. Plumbers have shied away, and other small businesses have been hurt, including a moving and appliance store on Midland Avenue, where chromium was found in 2009.
Garfield Mayor Frank Calandriello, who owned the store, remarked, "I had a woman come in here who wanted to return a refrigerator because she thought it might be contaminated. There's a terrible stigma attached to this now. It's just gotten out of hand."
A possible resolution
Now, after decades, President Obama's EPA has taken control, and plans to fix the situation. Walter Mugdan, who oversees the Garfield cleanup, noted, "Clearly it would have been good if the DEP had, 20 or 30 years ago, been looking at this [issue] in a more aggressive way."
The EPA is currently testing to make sure the chromium hasn't spread further than they thought. Investigators recently learned the chemical could already be as deep as 100 feet underground. The agency is now considering implementing a pump-and-treat system, in which contaminated water would be siphoned to the surface and treated at a nearby plant – but that plant would need to be built at taxpayers' expense, they say.
The main problem for the foreseeable future, said Mugdan, is that, due to budget cuts in Washington, it may take some time before a comprehensive cleanup project begins. Under the Obama administration's proposed budget for 2013, the EPA will not have any money to begin a new federally funded Superfund cleanup.
On the positive side, he added, the now-abandoned E.C. factory will be demolished next year, and workers will siphon out a pocket of chromium from underneath the building.
The issue of not having enough funding, said Mugdan, "is not just a problem in Garfield, but something we will face all around the country."
Mitt Romney, who has the support of New Jersey's Gov. Chris Christie, meanwhile, has repeatedly said that, if elected, he will eliminate many EPA programs. Other Republicans have been calling for the outright elimination of the agency itself and Republican leaders in the House have said it is their aim to tie up the agency's director, Lisa Jackson, in so many hearings that she will not have the time to do her job.
Where to go from here?
I believe that small towns such as Garfield should not be tossed aside. In a town that suffers from occasional flooding, the chromium will continue to taint people's basements until the EPA does something about it.
I also believe, though, that it is up to people to take action and fight back; to raise environmental awareness in an area of New Jersey that has endured pollution for too long.
Environmental activists note that there is no pressure being put on polluters and regulators in Garfield, because the residents are either unaware of the problem or refuse to band together to do something about it. Garfield has a huge rental population, and there is little organized effort taking place, illustrated by the fact that only 30 people attended a community meeting last December.
Robert Spiegel, director of Edison Wetlands, an advocacy group that deals with toxic cleanups, concluded, "The EPA will not spend the money [to fix the problem] unless the community is really together."
Photo: A sign in the city of Garfield, which is now a Superfund site as a plume of chromium contaminates it. GarfieldNJ.org