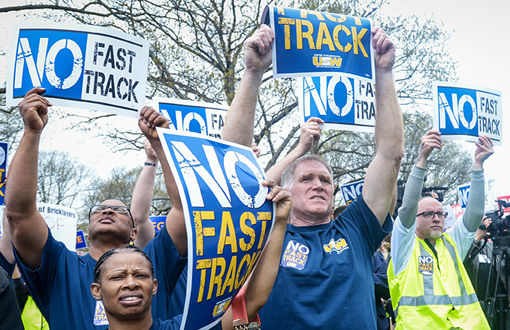 WASHINGTON – Lobbying against the looming Trans-Pacific Partnership "free trade pact" and discussions of presidential politics were the top topics at the recent Steelworkers Legislative-Political Conference in Washington.
The hundreds of delegates spent their time buttonholing lawmakers on how the TPP, like other past "trade pacts," only more so, would destroy U.S. middle-class jobs and close U.S. factories, call centers and other enterprises.
They were buttressed by recent reports and analyses, from the Economic Policy Institute and from academic economists in Massachusetts, showing the TPP would lower U.S. gross domestic product from otherwise-predicted levels and lead to the exodus of thousands of U.S. factory and other jobs to low-wage anti-worker nations such as Brunei and Vietnam.
And on May 9, former Secretary of State Hillary Clinton, the leading Democratic presidential hopeful, bluntly told the Oregon Fair Trade Coalition that "I have said I oppose the TPP agreement – and that means before and after the election."
The GOP-run Congress may take up the TPP this year under so-called "fast-track" presidential trade authority, which President Obama and GOP leaders pushed through early in 2016. The TPP covers 12 Pacific Rim nations, including the U.S.
Fast-track forces lawmakers, in each House, to take one simple up-or-down vote not on the TPP, but on Obama administration-written legislation to implement the pact. The vote would come after limited debate and no amendments, including no pro-worker amendments.
Workers and their allies strongly opposed fast-track, but the House narrowly approved it, due to overwhelming Republican support, plus 28 defecting House Democrats. The USW members at the legislative conference also discussed what to do about those solons this fall.
While the workers lobbied lawmakers about the TPP, they also pondered the presidential prospects and positions of the two remaining Democrats in the race, Clinton and Sen. Bernie Sanders, Ind.-Vt. USW President Leo Gerard ruled out the Republicans last year.
As an international, USW has yet to endorse either, though some individual locals have endorsed Sanders or Clinton. Sanders used Carrier's decision to close its profitable furnace plant near Indianapolis as an example of damage trade pacts – NAFTA in that case – cause.
The Vermonter met with USW Local 1999's president before the mass rally there, and the local endorsed him. Sanders' emphasis on such pacts' harm to workers propelled him to victory in the Hoosier State, on top of his prior upset of Clinton in Michigan.
The union's leaders are happy with both Democrats. Sanders has a 25-year record of being pro-worker and pro-union and voting against every single job-losing "free trade" treaty that lawmakers have considered. USW leaders are having constant discussions with Clinton's top aides about her trade pact stands. The activists reported local members reject GOP nominee Donald Trump, the billionaire businessman who opposes the trade pacts, as a racist.
As President Obama's Secretary of State, Clinton pushed the TPP. But when it came out in final form late last year, she said she opposed it as inadequate in, among other things, labor protections. Her new statement to the Oregon group also opposes lawmakers taking up the TPP in a "lame-duck" session after the November balloting.
Photo: USW workers protest TPP. | USW.org