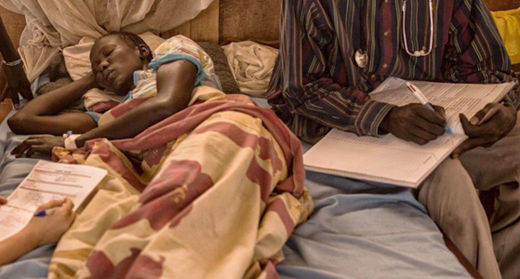 The proposed Trans-Pacific Partnership trade agreement would have massive repercussions on the health of the world's people, according to a blog post by Deane Marchbein, president of the U.S. Board of Doctors Without Borders. Dr. Marchbein warned that passage of the trade agreement would make many drug prices unaffordable and block availability of generic drugs, pricing millions of people out of much-needed medical care.
Dr. Marchbein predicted that implementation of the TPP would further standardize the monopoly-based system of medicine patents which already stands in the way of the development and production of new drugs. Her blog post cites the example of the recent Ebola epidemic in West Africa. She points out that this disease was identified 40 years ago, but the failure at innovation of the current profit-from-patent based system has resulted in no new treatments, vaccines or diagnostic products in that all that time.
Read more here.
Photo: Doctors Without Borders.