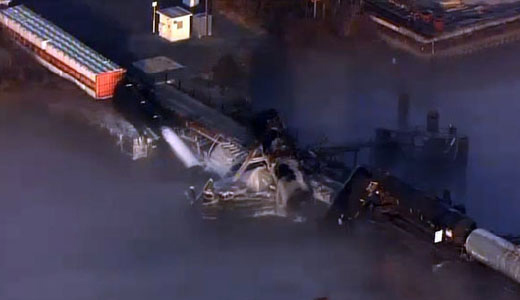 A freight train derailment this morning sent two tanker cars off a bridge and into a creek in Paulsboro, New Jersey, polluting the water with hazardous materials, which officials now fear are leaking into the Delaware River. The spilled chemical, vinyl chloride, is considered very dangerous to human health.
According to the EPA, even short-term exposure to vinyl chloride can cause extreme dizziness and drowsiness. EPA officials are still trying to determine what chemicals the other train cars were carrying, and whether people are threatened by exposure to any of them. The Gloucester County Times reported that 18 people living near the disaster area have complained of having trouble breathing.
Officials at Underwood-Memorial Hospital said the facility took in sixteen patients with sudden illnesses related to the incident, eleven of whom arrived by ambulance. Most of them are reportedly suffering headaches and respiratory problems.
The accident occurred just after seven a.m., according to the Gloucester Office of Emergency Management. It's not yet clear what caused the derailment, though helicopter footage showed one of the tankers hanging over a collapsed trestle.
Vinyl chloride is a highly flammable, sweet-odored, colorless gas that is used to make plastic and vinyl products. It is known to have troubling effects on the human nervous system and is classified by the EPA as a Group A human carcinogen.
The accident site – called Mantua Creek – empties into the Delaware River, just across from the Philadelphia International Airport, piquing concerns that it could lead to more extensive water poisoning. A thick slick can reportedly already be seen on the surface of the creek, and townspeople have noted a thick, white fog emerging from the crash site and out over Interstate 295, leading to suspicions of airborne chemical exposure.
Notably, inspection crews are working near the crash site without any protective gear. All local schools have been closed down and residents have been advised to remain indoors with the windows shut. No evacuation order has been issued so far.
Photo: The site of the chemical disaster in the South Jersey town of Paulsboro. NJ1015